As reported by newspapers, Kyokuyo Shipyard Corporation received, on December 27, 2013, an order for a 540TEU container carrier from Kobe-based Imoto Lines, Ltd.

.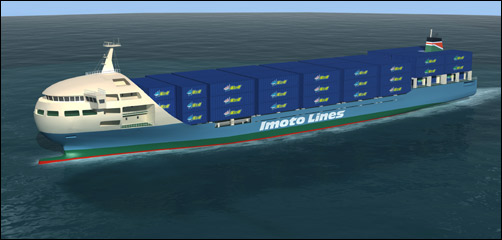 This next generation domestic liner is the result of 'chemical reaction' between experience and expertise of the 2 companies : Imoto Lines, a leading company for Japan's domestic sea transport, and Kyokuyo Shipyard, who has developed series of reputed container ship designs.
Let us introduce the key features of this innovatively designed vessel !
(1) Biggest 'coastal' container ship ever
To meet the increasing demand in domestic transportation (for both normal and reverse logistics) as well as in feeder service to cope with enlarging international container carriers, the ship is designed to have the biggest loading capacity for a Japanese 'coastal' container vessel. With more than twice bigger than conventional types of 499-749GRT, she will bring a new dimension to the transport efficiency.
(2) Semi-Spherical Shaped Bow (SSS-b) with integrated bridge
From the outside, clean lines and Kyokuyo's award-winning and patented SSS bow give the vessel a sleek modern look. The unique front-end shape is expected to save 5%(*) of fuel consumption under average sea condition, by reducing the wind pressure by 30%(*) compared with conventional hulls. (* designed values)
The bridge and accommodation area are smartly integrated into the fore-part to ensure better visibility and crew's comfort, by minimizing the impact of noise and vibration from the machinery. It also helps maximize the container loading efficiency.
(3) Eco friendliness
Besides her sleek hull shape, the new container ship will be equipped with many eco-friendly features that reduce the product's impact on the environment : high efficiency propeller, fuel saving paint, F.O. piping system that prevents oil spills on bunkering, and IMO PSPC compliant coating, to name a few.
Through numerous discussions with Imoto Lines, the best-in-class operator's vast know-how and tons of ideas are implemented to this new product. We are sorry for not being able to disclose every detail !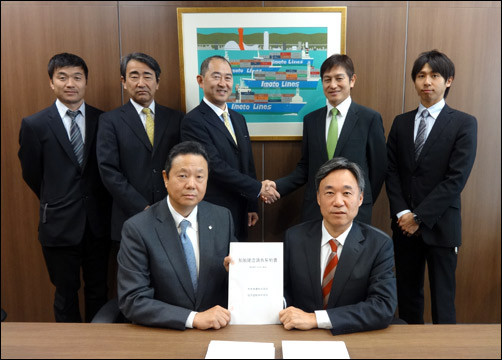 With the delivery scheduled in 2016, we are now working busy to tweak the hull shape, using tank tests and wind tunnel tests, and newly introduced ship design software. We can't wait to build this ship that will set the benchmark for the next generation of domestic container carrier ![2014/02/12]

home > news > News 177 : New Order For Coastal Container Carrier