Kyokuyo Shipyard Corporation is happy to announce that Tetsuo Mitsui, its Senior Managing Director, received 2014 Kyushu District Transport Bureau Director-General's Award. The District Transport Bureau is an arm of Japan's Ministry of Land, Infrastructure, Transport and Tourism (MILT).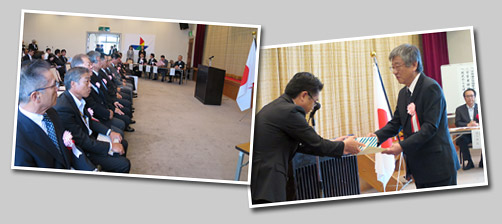 The award is annually conducted by MILT to recognize people who demonstrated sustained outstanding leadership and notable contributions to Japan's marine industries. While it typically goes to volunteers and retiring seamen, technicians or business persons, Mitsui is a rare winner for its 'invention and research' category, where not many awardees have been selected recently.
Among other reasons, his leading role in Kyokuyo's "development, design and materialization of energy-saving and low-wind-resistance ships with semi-spherical shaped bow" has lead to the award. Yes, it refers to our "City of St. Petersburg" which won the Japan's Ship of the Year in 2011. We are all very excited to hear the news !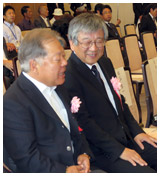 The award ceremony took place on July 23, just after the Maritime Day, at the assembly hall of Kameyama Hachimangu Shrine in the city of Simonoseki where were invited the 9 winners, together with the receivers of other awards. Mr. Kondo, president of JRCS Mfg. Co., Ltd.

with whom we have a good relationship, was also there to receive the same award in business person category. A relaxed talk with him eased the tension of Mitsui, who was looking nervous at first.
To multiply the happiness and honor, Kyokuyo has decided to offer to its Senior Managing Director a "President's Award" shortly. The management looks forward to seeing younger employees will follow this good role model by striving for excellence in their chosen field! [2014/09/10]

related news :
about Tetsuo Mitsui
about Kyokuyo's Semi-Spherical Bowed Ecoships