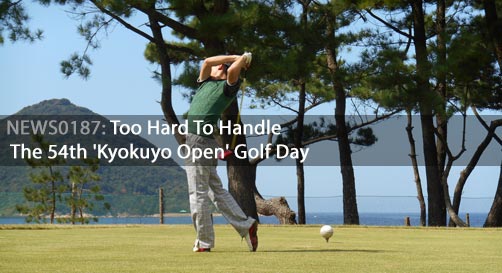 Since more than 5 decades, Kyokuyo Shipyard annually hosts "Kyokuyo Open" golf tournament on an autumn day, where we thankfully invite some of our stakeholders, including suppliers, subcontractors and service providers, among others. The 54th edition of Kyokuyo Open was held on October 10, the company's founding anniversary. No less than 122 players (in 31 groups) enjoyed a day of golf at prestigious Shimonoseki Golf Club.
It was a fine and windless day, perfect for golf. The golfers said however that they struggled against speedy greens with recently installed bermuda grass turf, which had become drier, firmer, harder, faster and more difficult after days of sunshine. Of course it's up to you whether to believe the excuses, but the result wasn't great actually, with only 3 players managing to score below 90.
For the award ceremony and party, Takahiro Yamamura of Material Purchasing Division was appointed presenter this year. Everybody there got really excited as he one by one announced the winners of various prizes, like 'near pin', 'driving contest'' and other less glorious (sorry!) minor prizes.
For the second time, the champion for the Kyokuyo Open was Mr. Gyoten of Yukitecno Co., Ltd., who had already won in about 10 years ago. The best gross award went to Mr. Yamahoka of Shinkai Kogyo Co., Ltd., who had got the same prize for several times already. With the course conditions being too hard for casual golfers, it was natural that the experienced players showed their true ability once again !
To end the joyful party, Katsuhiko Ochi, president of the company, gave a speech as every year. After expressing his gratitude toward the stakeholders, the president reported the company's steady accumulation of orders since last year. Ochi then said that he would propel Kyokuyo's own product-mix strategy to even greater success. He didn't forget to ask the understanding of suppliers who would receive more complicated and less bulky orders for that reason.
The next 'Kyokuyo Open' is scheduled on October 9, 2015, at the same Shimonoseki Golf Club. Why don't you come to play with us ?

[2014/10/22]

home > news > News 187 : Too Hard To Handle : The 54th Kyokuyo Open Golf Day