October 15, 2014 was the day when Kyokuyo delivered S513 to the owner, KSC Shipping S.A.. Just like her elder sister S516, or Heung-A Young, she is a latest example of the builder's 1,103-TEU 'Japanmax' container carrier model and employed by Heung-A Shipping Co., Ltd. of South Korea.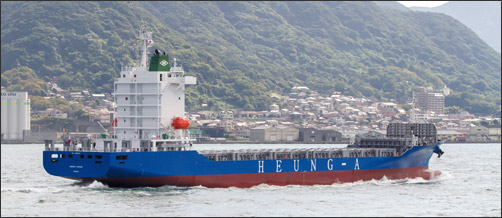 After the signing ceremony, where Mr. Hwan Ku Lee, Senior Executive Vice President of Heung-A Shipping Co., Ltd. took the principal role, all the participants moved onboard the new ship to attend the main events. We welcomed 18 guests, including Mr. Nae Kun Lee and his family.
It was a granddaughter of Mr. Nae Kun Lee who was appointed as namer. When Miss Sarah Bae, 6, declared the ship name to be "Heung-A Sarah" in a fluent English and smiled at the vessel on which she bestowed her name, the attendance gave her a round of warm applause.
Mr. Yuji Shirakawa, Director & Senior Managing Executive Officer of The Bank of Fukuoka, Ltd., took the center stage next. The representative of the financer of Heung-A Sarah boldly cut the rope which had been tethering to the shipyard. Champagne bottle smash, gun salute and a shower of confetti - the vessel was delivered to the owner.
As the previous case, we watched the ship gliding through Kanmon Channel from the windows of a banquet room where we had a luncheon reception. We and the guests gave a loud cheer to our new baby and had a great time together.
We heartily wish Heung-A Sarah fair winds and following seas ! [2014/11/8]

home > news > News 188 : Sarah and Sarah - Naming and Delivery Ceremonies for S513