J:COM Shimonoseki, local cable TV station, is running a program called "Iki-iki Shimin Kouza" (Be active! Open Lecture for Citizens) since 2007. Planned and operated by NPO "Iki-iki Monitaa Kaigi" (Be active! Monitoring Committee), lectures, in form of monologue or dialogue, are given twice a month by various guest speakers on a wide range of subjects, and are broadcasted as an hour-long TV program.

To commemorate its 200th session, which will be reached in this year, a "DVD box set" of all the past lectures is expected to be added to the collection of Shimonoseki City Central Library so that it can make them available to the public at any time.
Katsuhiko Ochi, president of Kyokuyo Shipyard Corporation was invited as lecturer and the program was recorded on February 10, 2015. Oh no, it was not a one-day project - in fact, the project started half a year ago. Ochi had meetings with Mr. Hikaru Okuma (advisor to the NPO / left in the above photo) and our old friend Mr. Mitsuhiko Yanai (its auditor) and even a rehearsal before the final recording session.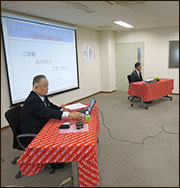 The lecture was titled "Design and shipbuilding technologies for car carrier - Challenge of Kyokuyo Shipyard" and given as a dialogue between Ochi and Mr. Okuma. Thanks to Mr. Okuma's experienced skill, Kyokuyo's boss looked relaxed and enjoying the whole session.
The dialogue started with introduction of local and domestic history of the shipbuilding industry with which most people were certainly unfamiliar. The conversation then went to Kyokuyo's specialty and strength, like the very wide range of products it had made, and its technical capabilities that brought "Ship of the Year" award to the company by enabling the creation of original car-carrying eco-ships despite difficulties. Ochi ended his lecture by talking about the future of Japan's shipbuilding industries. Overall, we believe the lecture is very interesting to viewers, no matter if he or she knew something about the industry beforehand.
Alas, only J:COM subscribers residing in Shimonoseki area can watch the program ! For those lucky people, its broadcasting schedule is as follows :
between Sunday March 1 and Saturday March 7 (both inclusive)
10:00-11:00 and 20:00-21:00 on Monday, Wednesday and Friday
10:00-11:00 and 18:00-19:00 on Tuesday and Thursday
11:00-12:00 and 22:00-23:00 on Saturday and Sunday.
And of course, we hope you will be able to take the lecture at Shimonoseki City Central Library later this year. Don't forget however, the dialogue was done in Japanese ! [2015/02/20]