In this issue we will introduce new employees who joined Kyokuyo this April. This year, we welcomed 5 new comers, including 2 college graduates (photo : below) who have just completed in-house training programs for 2 months.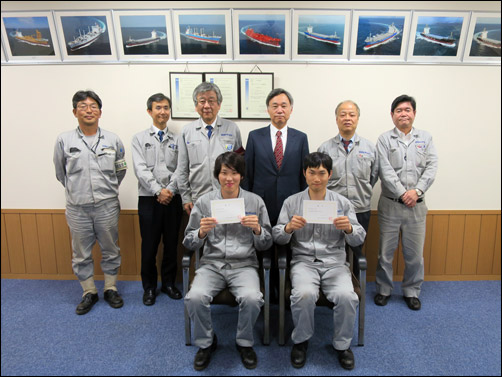 One of the two, a Nagasaki-native, studied mechanical engineering at a university in Shimonoseki. His love for manufacturing lead to interest in shipbuilding, and Kyokuyo. His hope was fulfilled when he was assigned, on June 1, to Outfitting Department in Production Division.
The other university educated freshman was born at Miyazaki where he has studied applied chemistry. He is a qualification collector with more than half-dozen professional licenses : he can readily handle lots of hazardous materials, be involved in electrical wiring and boiler maintenance, etc. He started his career in Machinery / Electric Design Dept. in Design Division.
Like previous years, the high-school graduates were sent to Oita Regional Shipbuilding Craftsmanship Center for 3-months professional training program, before starting their career as technicians at Kyokuyo in the end of June.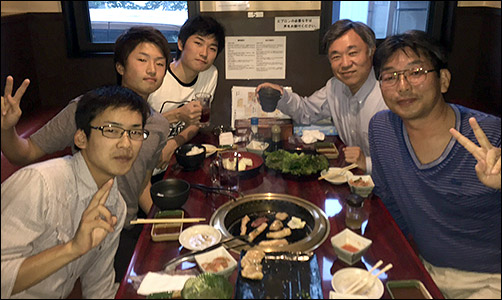 Katsuhiko Ochi, company president, and Norihiko Harada, head of Production Division recently visited Oita to invite them for an "encouragement dinner" (photo : above). The bosses were pleased to notice that the youngsters looked much more self-confident than in April.
We all look forward to seeing the new employees become key players for "Team Kyokuyo" in near future ! [2015/06/07]