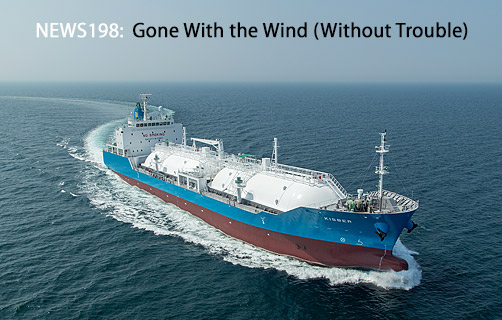 Kyokuyo Shipyard delivered one unit of 11,000m3 liquefied gas carrier to the owner Kisber Shipping Pte. Ltd. of Singapore. The vessel, code-named S-519, and now named "Kisber", is a new design packed with new features that meet ever-changing industrial requirements of today's and tomorrow's merchant ship.
Her lines have an excellent propulsion (thus energy) efficiency and straight-line running stability is also good for her short and ultra wide form with LOA being less than 120m to fit in ports the ship is expected to frequent. To attain the best results, the builder conducted various tank tests : resistance & propulsion tests in towing tank, planar motion mechanism (PMM) tests in circulating water channel and maneuvering tests in experiment tank.
S-519 is powered by MAN B&W's newest and fuel-efficient 6S35ME-B and the rudder has asymmetry fin with bulb, called Surf-Bulb, which converts the rotational energy behind the propeller to the thrusting force. A ballast water treatment system is fitted, with anticipation of forthcoming changes to related regulations and legislation. A gray water tank and low-sulfur fuel system are also readily equipped onboard to address environmental issues. Although the vessel is not subject to the new 'noise level code' by IMO/SOLAS, she has basically cleared the new standards to be imposed, by modified accommodation design and additional noise-controlling measures.

Originally, the ceremonies and delivery were scheduled on August 25. So 5 guests, including Mr. and Mrs. Monckton, Group Head of Trade Finance of Petredec Holdings (Eastern) Pte. Ltd. and Mr. Philip Harwood, the company's Fleet Director, arrived on the previous day, 24th, at Shimonoseki. However, a powerful typhoon Goni was approaching Japan and expected to hit our hometown on 25th. The owner and the builder had an urgent discussion to decide to bring forward the delivery, so that the ship could sail out of the dockyard before waves would become too rough !
We could settle everything without losing any time and really enjoy "post-delivery" small dinner party that ended after 1 a.m.. We still feel sorry that many "fancy" things, like cord-cutting or champagne bottle crashing had to be cancelled, and would like to thank the owner for their flexible cooperation and understanding on our stance with priority given to safety.
Now, we are doing our best for the second ship ! [2015/09/09]

home > news > News 198 : Gone With the Wind (without Trouble)