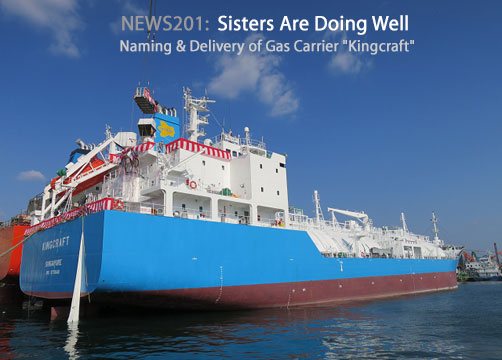 On October 29, Kyokuyo Shipyard Corporation delivered an 11,000m3 L.P.G. carrier, S520, to the owner Kingcraft Shipping Pte. Ltd. from Singapore.
The new ship was a sister of Kisber, for which we were forced to give up official naming and delivery ceremonies due to the approaching typhoon. This time we had an ideal weather with blue sky, and were pleased to receive guests including Capt. Dabiru Venkatraman, Marine Operations Manager and Ms. Judi Liu, Group Treasurer, both from Petredec Holdings (Eastern) Pte. Ltd.. Every participant - guests, ship's officers and crew and our staffs - seemed to be in a happy mood.
After the raising of flags and the playing of the national anthems, it was Ms. Liu, who named the gas carrier "Kingcraft". When she subsequently cut the rope, triggering "champagne bottle smash", the place erupted in applause and confetti, and the ceremonies symbolizing the birth and ownership transfer were finished as scheduled. Kingcraft slowly left her home port heading Kanmon Channel, as a bunch of sturdy shipbuilding-men were waving yellow handkerchief on the shore.
At Kanmon Channel, the guests were waiting for her in a hotel banquet room with a splendid marine view, where the luncheon reception was held. We gave warm cheers to the newest ship in the world as soon as she appeared on the scene and blew steam whistles to salute the people from her owner and builder. It was impressing that the presence of Kingcraft put a smile on the face of everybody there.
Later, Kingcraft's master called Capt. Venkatraman to report that his ship had no problem. According to the main guest of the ceremonies, the elder sister Kisber was then performing the 2nd voyage with butane, after discharging, at several ports in Europe, her first cargoes loaded at Houston. "I am very satisfied" said Capt. Venkatraman and we were filled with a sense of accomplishment and reassurance when we heard that ! [2015/11/28]

home > news > News 201 : Sisters Are Doing Well - Naming & Delivery of Kingcraft