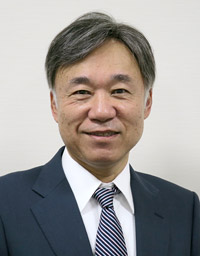 Dear customers, friends and readers, I wish all of you a most happy and healthy new year !
Less dynamic movements of currency exchange rates during 2015, with dollar trading around 120 yen, brought benefit to Japan's export industries (automotive, machinery...) as well as to other industries like tourism and retailing, propelled by the strong inbound consumption. On the other hand, bulk carrier chartering market hit record low, mainly triggered by the decelerating Chinese economy. We saw a number of mid-sized bulker operators fall into difficulty last year, despite reduced operational costs thanks to falling oil prices. The shipbuilders had good and bad things happen : the implementation in January 2016 of Tier III NOx emission standards for ships caused a spike in demand and helped us to grow backlog, while certain shipyards suffered to cope with difficult requests from bulker owners to modify existing contracts, reflecting the depressed market.
---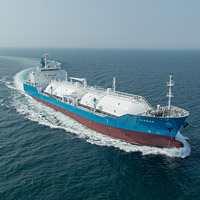 Talking about us, Kyokuyo Shipyard Corporation could, like always, build and deliver all the contracted newbuilding vessels as scheduled in 2015. There were 3 noteworthy things, too.
First, the company successfully completed its first 11,000m3 L.P.G. carrier. It was Kyokuyo's largest pressurized gas tanker ever. In spite of the ship's wide shape, she outperformed the predictive straight-line running stability in sea trial. We will, with confidence, build 7 more sister ships in this and next year, and try to receive more orders.
Second, we delivered, last December, an innovative container carrier - biggest for Japan's coaster - which widely employed advanced energy-saving technologies, including our globally patented 'Semi-Spherically-Shaped (SSS)'-bow. The company's engineering staffs are scheduled to be onboard for coming months to estimate her energy-saving performance in real conditions.
Lastly, Kyokuyo received several new orders that boosted backlog till 2019 on delivery basis. The new orders include those for gas carriers, which reflected the increase in the global gas trade, as well as for our specialties like reefers and container feeders.
I am happy to add that higher sales were recorded also in repair sector than in previous year, with continuous support from domestic customers. I would like to sincerely thank, on behalf of the company, the shipowners who placed new building and repair orders from us and other parties who helped us during last year.
---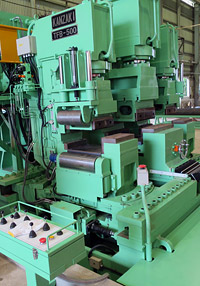 Whilst Kyokuyo Shipyard performed well in 2015, in terms of sales and receipt of orders, there were some incidents, however, for which I need to feel deeply responsible as president, and which made me realize that our company still had a considerable room for improvement, in terms of risk management.
First and above all, we have to strengthen the safety management in our factory. What we must prioritize as a manufacturer is the safety of all the workers. Kyokuyo is an active company with the comparatively low average age of employees but the insufficient maturity might lead to regrettable errors. Keeping it always in mind, the management should maintain and improve the company's working environment, and seek for safer and cleaner workplaces by ensuring the compliance from all the workers with regulations and operational manuals.
On the other hand, we have to rethink about increasing aging workers. Their skills acquired through decades of experience are valuable but at the same time it isn't good at all if young and mid-career workers depend excessively upon them and hesitate to correct their mistakes. I must point out that now this negative effect is seen everywhere in Kyokuyo. No one is able to rely on veterans forever. So we will actively try to make public the personal and private skills of experienced workers in form of manuals and to offer early promotion to younger personnel so that they can gain their own experiences. This way, I believe we can eliminate the cause for such regrettable errors.
---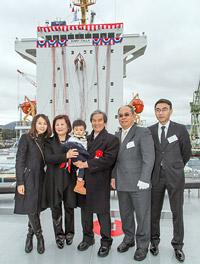 With that said, the most important thing to Kyokuyo, in 2016, will be its further improvement of design capabilities, which are the core competence of the firm to take steady steps forward. Especially, creating ship designs that comply with the new SOLAS noise level code (July 2015-) and IMO NOx Tier III regulations (January 2016-) is our top priority for now, as we are already receiving several enquiries from European shipowners. I promise to invest sufficient resources to create new lines of products to meet customers' expectations.
Kyokuyo Shipyard's unique "niche-market-oriented product-mix strategy" relies on the company's outstanding design capabilities, as it builds a variety of ships in small numbers. I want to maintain the advantage we have by recruiting new staffs and entering into a business partnership with domestic or international third parties, and in cooperation with Japanese marine equipment suppliers.
---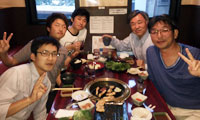 Permit me to end my words by repeating the same phrases used last year, because I am uncompromising on these points and feel no need to change !
"I want Kyokuyo Shipyard Corporation to be always a busy and lively place to work. I want all its staffs and subcontractors to share a sense of unity as a team. The company may be a small for a shipbuilder, but who says good things come in big packages ?"

We will close from December 30, 2015 to January 3, 2016 for the new year. We wish all of you a happy new year !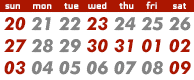 "Each of us is committed to do his/her best, in a honest way, with the pride of a ship manufacturer, keeping safety-first in mind, for the sake of himself/herself, company, local community, and our valuable customers and other people involved who have given us opportunities to build our ships."
Your continued patronage shall be highly appreciated !
Katsuhiko Ochi
President
Kyokuyo Shipyard Corporation
[2016/01/01]

home > news > News 203 : 2016 Season's Greetings from the President