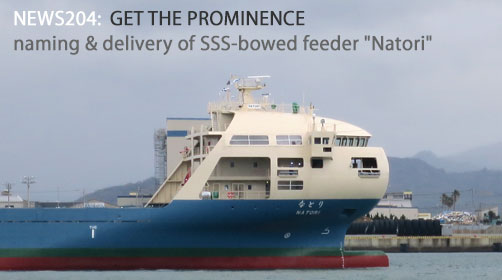 Kyokuyo's last ship for 2015 was a 540TEU container carrier "Natori" (S-522, 7,390grt x 136m overall length), which the company had built based on an order placed in December 2013 by Imoto Lines, Ltd., of Kobe, a pioneer of coastal feeder service in Japan.
The owner is seeking improvement of transport capacity with bigger and more efficient coastal feeders, and the builder's innovative technologies for safety and energy efficiency were key considerations in the decision to order this ship with its characteristic "semi-spherically-shaped" bow (SSS-b). The project, titled "An experiment for energy-saving using large coastal container carrier with a next generation SSS-b", receives a government subsidy from Agency for Natural Resources and Energy, as part of "Subsidy to promote energy-saving logistic projects (Experiments of innovative energy-saving seaborne transportation system)" for 2013.
Natori is Kyokuyo's 3rd "eco-ship", incorporating the company's newest "eco" technologies. Compared to conventional designs, her fuel-consumption performance will typically be improved by 10% - with high-efficiency propeller, fuel-saving coatings and many others, let alone the builder's patented SSS-b, which may reduce wind pressure resistance down to 70%. (For details, see news 177).
On December 11, 2015, the delivery day, the weather was not perfect as a heavy rainstorm hit the town the previous day. While the rain had got lighter, we still had a very strong wind and low-hanging dark clouds. Considering the safety of guests, we had to change the venue of the ceremonies from the vessel's main deck to a conference room looking out to the ship, where some 60 guests were invited to attend.
After exchanging the flags, Mr. Takayuki Imoto, president of Imoto Lines, Ltd. boldly said that he named the ship "Natori". His wife, Mrs. Nanae Imoto, then cut the rope which (symbolically) had tethered the new vessel to the shipyard. The guests could witness, through windows, that her action (remotely) triggered other events, like champagne bottle smashing and confetti/paper tapes releasing !
Unlike usual naming ceremonies, the most thrilling moment came later : taking group photos in front of Natori ! We had really worried whether we could manage to do it under the unusual weather conditions. But hay ! Our concerns turned out to be needless, as the wind miraculously stopped and we could even see a trace of sun !
In the luncheon reception, Mr. Imoto, in his speech, disclosed the reason why he chose "Natori" for the ship's name. It has double meaning. Firstly, the ship was named after Natori river in Miyagi prefecture as historically, Japan's economy in Edo era was supported by riverine "feeder" logistics. In addition to that, the ship owner wanted the name to imply fame or prominence, because Na-Tori could be interpreted literally as Na (name, fame) - Tori (get, acquire) in Japanese.
Natori has entered into a regular domestic service linking Tokyo, Yokohama, Kobe, Kitakyushu and Hakata. We would like to sincerely thank the shipowner to choose Kyokuyo Shipyard Corporation and wish the most prominent future for our newest baby ! [2016/01/20]

home > news > News 204 : Get the Prominence / naming & delivery of SSS-bowed feeder "Natori"