Kyokuyo's first product for 2016 was an 11,000m3 liquefied gas carrier S-523, for Epic Gas Ltd. with headquarters in Singapore.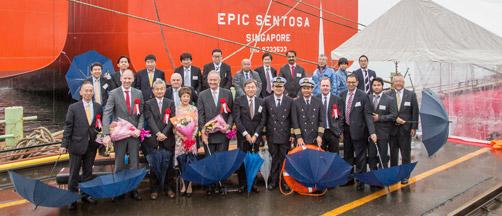 The naming and delivery ceremonies were held on March 9, a drizzly day, on a stage set at our quay No.2 where the ship was berthing. The guests included, among others, Mr. Christopher Buttery, director and ex-chairman of Epic Gas, Mr. Charles Maltby, its current chairman and CEO, and Mr. Masanori Kawakami from Sumitomo Corporation and his wife Mieko. It was our great pleasure that Mr. Buttery as well as Mr. Maltby were attending the ceremonies.
It seemed the quay was filled with festive spirit when Mr. Ochi, Kyokuyo's president, handed a bouquet of colorful flowers to sponsor, Mrs. Mieko Kawakami. After playing national anthems, the sponsor announced : "I name this vessel EPIC SENTOSA. May God bless all those who sail in her !" Mrs. Kawakami then smartly cut the rope that had tethered the new ship to the dock (and that had fixed a champagne bottle in the air). Everything was done smoothly, and the ceremonies ended with paper tapes, confetti, and a great round of applause.
One thing was remaining, though : taking group photos in front of EPIC SENTOSA while the rain was falling down ! It was not an easy task, as we did not want our guests (in dress or suit) to get soaked, and umbrellas would hide people in the back row. We could find a magical solution : ask the guests to lower their umbrellas just before the timing of shutter release ! Three, two, one, voilà ! It worked very well and it was a very memorable photo taking, too. (see photo on top)
The newly built vessel is the first and eldest of a series of sister ships. The shipowner highly values the quality and consistency of Japanese Shipyards, and whilst the shipowner placed orders for smaller L.P.G. carriers with other Japanese shipbuilders, only Kyokuyo received direct orders for 11,000m3 types. This confidence was built on their experience with four other Kyokuyo-built vessels in their existing fleet.
The owner typically names their ships after islands in areas where the ships trade after delivery. As you guess, EPIC SENTOSA was named after the Singaporean island, and translates as "peace and tranquility" in Malay, but is also a major tourist spot with an aquarium, casino, golf course and other attractions. [2016/04/15]

home > news > News 207 : Ceremonies in the Rain / naming and delivery of gas carrier Epic Sentosa