As pre-noticed in our news206, Kyokuyo President Katsuhiko Ochi gave a seminar "Trying to be a global technology leader among the builders of small ships - the answer is blowin' in the wind" at SEA JAPAN 2016. Thousands of visitors came to the biggest maritime event in Japan with more than 500 exhibitors, and all of about 100 seats were taken as soon as the gate to the event stage opened at 13:00 on April 13. When the event began 30 minutes later, the venue was overflowing with attendees standing in rows.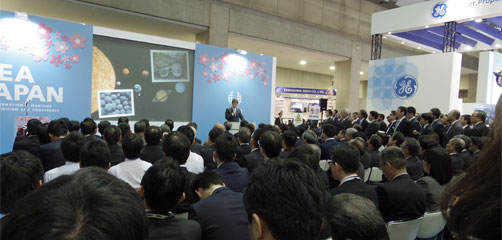 The seminar started with a promotion video produced by Nissan Motors several years ago, featuring the "City of St. Petersburg", the world's first ship with Semi-Spherically-Shaped-bow, or SSS-bow, which was designed and built by Kyokuyo. The SSS-bow project got underway more than 10 years ago when the oil prices were very high. Ochi first told how and when Kyokuyo got the original idea of SSS-bow in the pursuit of greener and more efficient technologies, and how they could turn it into something that really works.
The real challenges started after the first order was awarded, according to Ochi. How to form iron plates into precise spherical shape ? How to install aerodynamic bridge windows ? The shipbuilder had to clear challenges one after another, as the products that was never seen before required new manufacturing technologies. The result was awesome, though : not only did she perform as expected in terms of fuel efficiency, but she won the Ship of the Year - the biggest and most coveted award of the Japan's shipbuilding industry ! The sister "City of Rotterdam", container feeder "Natori", and a cement carrier currently on order - the lecturer further showed off the evolution of this globally-patented technology until today, with disclosing a lot of previously untold stories.
After a design team staff Teruki Tanaka added detailed information on the technical background behind SSS-bow, Ochi came back to the stage to explain why his company should try and is trying "to be a global technology leader among the builders of small ships". Most of smaller shipbuilders, including Kyokuyo, are local companies with limited budget, and their facilities size are not suited for "massive" orders for standardized vessels like handymax, panamax or aframax. That's why Kyokuyo has developed its unique "niche-market-oriented product-mix strategy" to survive, and design and manufacturing capabilities are essential to create a variety of value-added products in small numbers. Ochi concluded the seminar by saying Kyokuyo Shipyard Corporation would be pursuing technological excellence and would keep encouraging its employees to take on challenge.
Thanks to careful preparation this rather unfamiliar task was accomplished smoothly and well received by guests and attendees. The lecturer only regrets that he couldn't make the audience burst out laughing as expected when he said the original name "Kyûjo Senshu (=Spherical Bow)" was changed to "SSS-bow" because it could be heard as "Kyûjo Senshu (Shipowner in Difficulty)". It bombed actually, as nobody laughed !
Thank you very much for coming !
[2016/05/10]

home > news > News 208 : Kyokuyo's Boss Really On Stage
- SEA JAPAN 2016 seminar at Tokyo