Do you know Japanese school year ends in March and most of Japanese companies hire March graduates to join them in April ? Kyokuyo Shipyard is no exception, as the company welcomed 7 new recruits this April.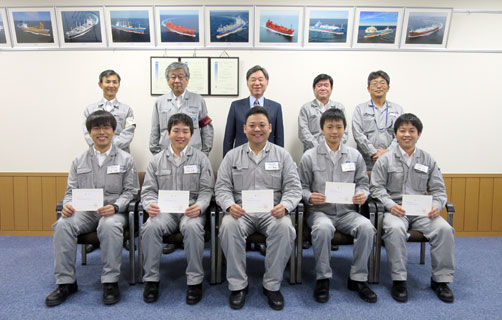 On May 9, the company held a short ceremony to deliver a "letter of appointment" to the new employees. The company president Katsuhiko Ochi told them in his speech : "Today you have got your first position here, but don't rush as your career path will become clearer in your 30's after you have some industry experience." He continued : "To start your first year here, try to acquire the necessary skills and knowledge with the guidance of senior colleagues." The boss didn't forget to add : "If you have any troubles your colleagues will help you."
5 out of 7 new comers are university / graduate school graduates. Each of them has his own personality type : Tomomichi is laid back and loves smiling ; Taiki can talk like a machine gun and knows how to liven things up ; Kohei is always calm and sarcastic ; Hiroki already looks like a mid-career professional and likes playing horn ; and Tomoharu is crazy about muscle building and proud of his chest(!). After 1 month OJT that started in April, they are already good friends each other. Today, 3 works for Design Department while the other 2 for Shipbuilding Department.
On the other hand, the 2 high school graduates are currently in Oita, to attend 3-month professional training program at Oita Regional Shipbuilding Craftsmanship Center. It is nice to hear that they are concentrated to obtain 8 qualifications despite a recent Kumamoto earthquakes that also hit Oita (with an intensity up to level 4). We are looking forward to their coming back to Kyokuyo at end June.
| | |
| --- | --- |
| | |
Some days after the ceremony, a welcome party took place at a Korean barbecue restaurant with all the Kyokuyo's VIP's (board members, general managers..) being there. In that party, Ochi unveiled the idea of creating of a cutter team. The cutter is a rather heavily-built small open boat of 5-10m, used in rowing or sculling race. The idea is to take part in next year's "Shimonoseki Cutter Race (Japanese Site

)", an annual race hosted by the Kyokuyo's hometown since several years. And yes, we saw the birth of a new team with the leader being, of course, Tomoharu who is crazy about muscle building ! As a shipbuilder based on Shimonoseki, it is one of our important duties to participate in sea-related activities that was meant to revitalize our region. [2016/05/27]

photo (top right) courtesy of Shimonoseki Cutter Race Organization Committee
home > news > News 209 : New Crew Embarked Onboard Kyokuyo
... and they will row a cutter boat, too