As mentioned in the previous news reporting Natori, a container carrier built last year by Kyokuyo Shipbuilding Corporation, won the "Award for Development of Technology that Reduces the Environmental Impact for Logistic Operations", the same ship has now been awarded the "Best Small Cargo Ship" in the 2015 Japanese Ship of the Year event hosted by the Japan Society of Naval Architects and Ocean Engineers (JASNAOE)

, and the award ceremony was held on July 7, 2016.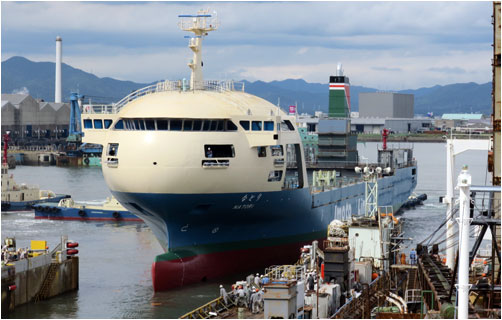 Every year since 1990, JASNAOE chooses ships that they consider to be "the most technologically, artistically, and socially superior" among all the vessels built that year in Japan, and Natori was selected for its outstanding energy-saving and transport efficiencies.
Completed and delivered last december to the owner Imoto Lines, Ltd.

, Natori is by far the largest coastal feeder trading within Japan, with its loading capacity of 548TEU. She is also the world's first container ship equipped with Kyokuyo's globally patented "SSS-b", or Semi-spherically-shaped bow, which effectively reduces the wind resistance. This unique bulb bow construction, together with her improved underwater hull shape, adoption of high efficiency propeller and ultra fuel-saving antifouling paint, among others, helped reduce fuel consumption up to 9.5%.
The naming and delivery ceremonies of Natori was attended by 2 Directors-general (of Maritime Bureau

and Ports and Harbours Bureau

) from Ministry of Land, Infrastructure, Transport and Tourism. We believe this showed the Government's expectation for this ship to play an important role in the modal-shifting they promote, and in the "International Container Strategy Ports" policies they pursue.
Engaged in a liner service, Natori regularly appears in the Kanmon Straits. With her roundish face (some nicknamed her 'Axolotl'), she is a big eye-catcher and attracts much attention - even from people just idly watching the sea. We are happy if our award-winning product can offer many people a chance to feel the future of the shipping industries. [2016/07/19]

(Image of Axolotl by th1098, used under Creative Commons BY-SA3.0. For details click here

.)
home > news > News 212 : Natori Now Named Category Winner in 2015 Japanese Ship of the Year