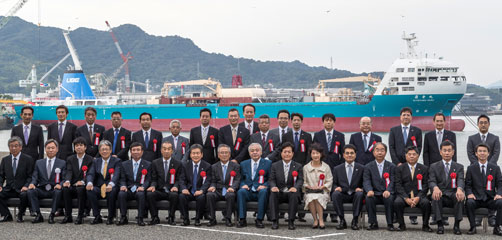 We are happy to let you know that yet another SSS (Semi-spherically-shaped) bowed ship was born. After pure car carriers and a container carrier, it was a 12,000tdw type cement carrier that was fitted with Kyokuyo's globally patented technology. She is called "Kiyoyasu Maru" or S531, and jointly owned by JRTT

(Japan Railway Construction, Transport and Technology Agency) and Shinnihon Kinkai Kisen K.K.

.
The new "Kiyoyasu Maru" replaced old "Kiyoyasu Maru" which was built about 40 years ago and operated by the same Ube Shipping & Logistics, Ltd.

. In addition to her excellent aerodynamic performance thanks to the SSS-b, refined hull form and wing-shaped funnel, which, as a whole, is expected to reduce wind resistance by 5%, Kyokuyo's newest product is given many advanced features. To name a few,
Reaction fins

, which recovers propeller rotational energy loss ;

Logically rearranged wheelhouse

with navigation space (fore) and machinery control area (after). Instruments that integrate remote control and monitoring of related equipment during navigation and loading/discharging
Loading/discharging equipment can be activated and controlled remotely from the

cargo handling control room

to ensure reliable operations
Adoption of

SUPER BRIDGE-XE

, navigation support system by MHI, with voice input functionality

VecTwin rudder system with joystick control

greatly facilitates in-port maneuvering

Stand-by sequence control system

for M/E warm-up pumps and related valves, which contributes to labor-saving

Water-tight valves for hold flowgate

to comply with damage stability rules...
among many others.
We would like to thank staffs and supervisors from Ube Shipping & Logistics, Ltd. for their close cooperation and technical inputs without which it would be hard to build this advanced ship in terms of energy-saving, labor-saving, and controlling and operational performance.
Unfortunately, it was very windy on August 31, the day for her naming. For the guests' safety, we had to make a decision to carry out the ceremony in our main building, where more than 30 guests were invited. After Mr. Yoshinori Mori, President of Shinnihon Kinkai Kisen K.K. gave her name of "Kiyoyasu Maru", it was Mrs. Fumiko Matsunami (wife of Mr. Tadashi Matsunami, Director of Ube Industries, Ltd.

) cut the rope, and we could then see through the windows that colorful paper tapes and confetti dropped on Kiyoyasu Maru.
After the ceremony was finished with a group photo session, the luncheon reception was held at a hotel in Kawatana

, famous hot-spring (onsen) place accessible from Shimonoseki within 45 minutes by road. We hope the guests enjoyed Kawatana's alkalescent - sodium chloride - radium onsen and its peaceful environment.
The all-new Kiyoyasu Maru was delivered on September 16 and sailed out the same day for her first mission. We heard that cement demand is strong, for post-quake reconstruction at Tohoku and Kumamoto and other big public projects like Olympic Games and the construction of maglev shinkansen line. We hope our new ship will play an important role in Japan's infrastructure improvement as part of a fleet for her cargo owner, Ube-Mitsubishi Cement Corporation

. [2016/10/19]

home > news > News 215 : World's First SSS-b Equipped Cement Carrier ! / Naming of 12,000tdw Kiyoyasu Maru