The NIKKEI ASIAN REVIEW recently disclosed Top 20 most viewed stories in the first half of fiscal year 2016, and an article on Kyokuyo Shipyard Corporation was ranked #4 !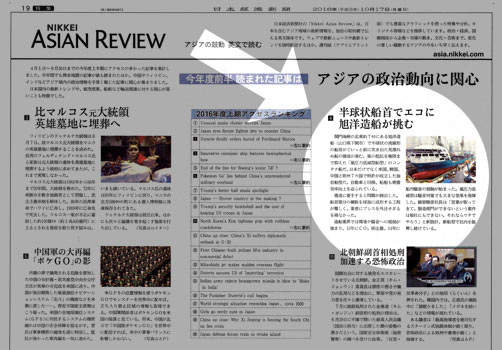 The article, entitled "Innovative container ship features hemispherical bow"

, featured Kyokuyo's latest SSS-bowed product line as well as the builder's technical efforts behind the scene. The article is highlighted in the screenshot above (top right) - for your information, top left is a news about Phillipines presidents Duterte and Marcos (#3), bottom left about Chinese Army and GPS (#6), and bottom right on crackdowns in North Korea (#10)... What a surprising lineup !
The NIKKEI ASIAN REVIEW

is an English-language business journal owned by Japan's Nikkei Inc. who is also known as owner of Financial Times. It is touted as "the only global publication with a uniquely Asian perspective" "that brings you insights about business, finance, economic and political news, comments and analysis for Asia."
We are very happy to know that many people across the globe are interested in our company and our unique and technically advanced products. We are committed to keep on moving ahead ! [2016/11/14]

home > news > News 217 : Ranked #4, Among Many - "Most Viewed" Article Ranking on NIKKEI ASIAN REVIEW