In fact, Kyokuyo Shipyard Corporation hosts many competitions. You probably know some of them, including "Kyokuyo Open" annual golf tournament, and the inter-company skills competition with Onomichi Zosen. But how about this one - "Blind tasting competition" with JFE group of companies ?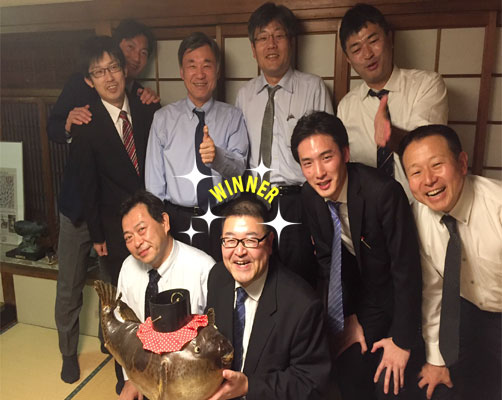 According to the company secretary (joking), this event was started 8 years ago, or so, as a side attraction of a "nomikai" drinking party à la Japanese. Since then, it has developed year by year into its present form, where about 10 courageous tasters, from Kyokuyo, JFE Steel Corporation

and JFE Shoji Trade Corporation

, annually get together and blind-taste several pairs of foods and wines, one expensive and the other ordinary, to identify which one is better. It is a simple yet cruel game - I'm sure how much you feel embarrassed when you have judged a cheap, processed honey is better than a genuine Manuka honey which costs 17 times more. It is a fight for pride !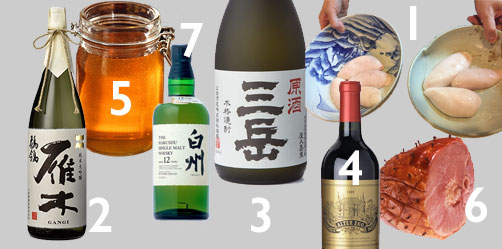 This year, each contestant was offered the following 7 pairs :
Tiger pufferfish Milt

(a speciality of our home town) : Natural vs Farm-raised, with a prices high/low ratio 2 : 1.

Japanese Sake

: "Gangi" Junmai Daiginjo (Pure rice, very special brew) vs Junmai Ginjo (Pure rice, special brew) from the same house. Hi/low ratio 3 : 1.

Japanese "Imojochu" distilled liquor

made of sweet potatoes : "Mitake Genshu" vs "Sekitoba". The former, produced in Yaku Island in the limited quantity, is difficult to get. Hi/low ratio 2 : 1.

Red wine

. 2012 Alter Ego de Palmer, Château Palmer, Margaux (France) vs Cono Sur 20 Barrels Limited Edition (Chile). Ratio 4 : 1.

Honey

. Natural genuine Manuka Honey vs domestic "Sakura" brand processed honey. Price ratio 17 : 1.

Ham

. Japanese premium ham vs imported ham of ordinary quality. Prices ratio 2.5 : 1.

Whisky

. Suntory Hakushu 12 years old vs ordinary Suntory Hakushu. Hi/low ratio 2 : 1.
There was an upset in 2016 Shimonoseki Blind Tasting held at the end of last year, as Takahiro, who works for Kyokuyo's Material Purchasing Division, won this tough competition, beating other "gourmet" contenders, including among others Mr. I. of JFE Steel, who came from a sake brewer's family. Nobody expected this guy, who looked not caring about foods, would get 6 correct answers out of 7 ! With a good tongue and also with a big mouth, Takahiro provocatively said he would defend his title next year, but we doubt it, as he was one of the 2 tasters who judged the processed honey was better !
No matter who is the winner, we are sure that it is truly a fun event, where every participant enjoys good foods, drinks and time in a convivial atmosphere. [2017/02/01]

home > news > News 222 : Joyful Fight Over Table - 2016 Blind Tasting Competition