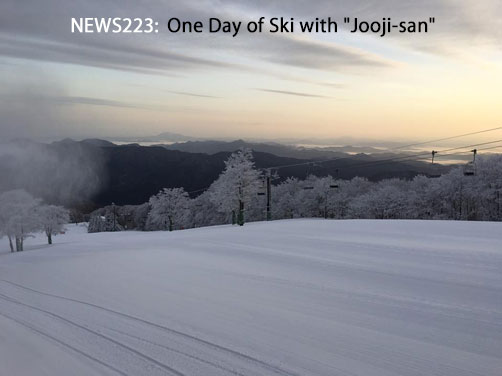 Mr. Georgios Koutsoukos, or "Jooji-san" as we call him, is the newbuilding superintendent for Paradise Gas Carriers. As he is a ski lover, some of us invited him to go skiing, to make his long stay at Shimonoseki more enjoyable.
On Saturday February 4, at 4:30 in the morning, 4 men got together at Kyokuyo : Jooji-san, Kyokuyo Director Harada-san who used to work as ski instructor when he was young, cheerful Matt Sizemore from northern California, and me - Horikawa, working in the company's production division. Our destination was scenic "Mizuho Highland

" ski resort, which is touted as offering a view of the sea from the summit.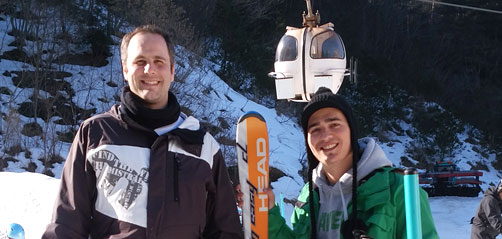 When we arrived at the skiing area after 3 hours of driving, we were welcomed by morning sunshine. The weather was pleasant despite its location in the middle of the mountain. The place was already very crowded, though, with lots of skiers and snowboarders waiting in lines for the telecabines.
Once reaching the summit, 2 expert skiers - Jooji-san and Harada-san - wasted no time to try the longest run in the area (3.6km long - vertical drop 721m). Right, left, right, left, they swiftly glided down the slope, leaving behind 2 weak-kneed beginners, who couldn't help but fall down the same slope! I want to stress that I was born and grew up in Nagasaki, a seaside city in southern Japan where you can't expect any snow at all. I can't tell by the way how Matt, who is from Redding, a city located near California's highest mountain, isn't good at skiing !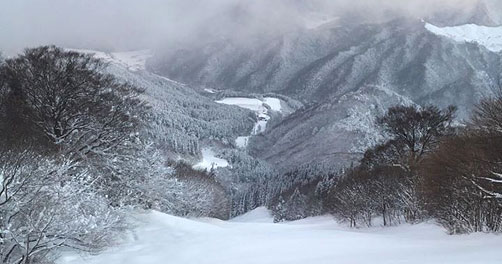 We had a break on a sunny terrace, enjoying glass of wine, pizza and burgers. Jooji-san looked satisfied, and said that he was impressed by the cleanness of the facilities and the politeness of people, easily giving way to others. We were all delighted to hear that ! We had a really good time together.
It is only one day during Jooji-san's long stay at an unfamiliar place, but we are happy if this one day can help him feel refreshed, just like a perfect turn in a long downhill run ! [2017/02/20]

<photos courtesy Mizuho Highland Ski Resort>