This time we feature the 4th newbuilding ship of 11,000m3 type L.P.G. carrier for EPIC Gas Ltd., which we delivered recently. In the news220, covering her closest elder sister, "EPIC SAMOS", we wrote that after "Singapore (Sentosa), Japan (Shikoku) and now Greece (Samos). What is the next destination the owner will pick for the fourth sister ?" The answer is Sardinia, of Italy !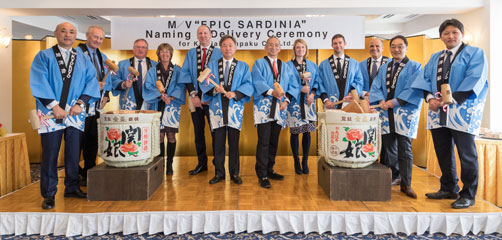 As you know well, Sardinia is the second largest island in the Mediterranean Sea after the Sicily. It is located to the south of Corsica and to the west of the boot-shaped Italian peninsula. Ancient Greeks called the island "Sandalyon" (=sandal) as its shape recalls a footprint. It is interesting to know that sardines were also probably named after Sardinia, because they were once really abundant there.
January 25 was a perfect day for the newbuilding events, with a blue sky and a gentle breeze. The naming and delivery ceremonies were held at our "quay No.1", where was berthing "S-527 TBN" alongside. The guests included among others Mr. Paul Over, his wife Tina and their daughter Jessica, and Mr. Nobutaka Mukae, president of the shipowner Kumiai Senpaku Co., Ltd.. (We heard that the business talk for this ship started when Mr. Mukae and our Mr. Ochi played golf together, by chance, in a tournament !) We were also delighted to welcome Mr. Maltby and Mr. Buttery to our factory again !
The bouquet presentations, national anthems (of Japan and Singapore), and flag raising. The ceremonies begun as scheduled. Ms. Jessica Over, the sponsor for this ship, then proclaimed her name to be "EPIC SARDINIA". When Jessica cut the tethering rope with a determined blow of the axe, a bottle of champagne was smashed against the ship's rear and the ceremonies reached the climax ! The vessel was showered with confetti and paper ribbons, the music started to play and everybody gave a hearty applause to the ship and her sponsor.
We are now building the next - and the last sister ship as this is 5-ship series. The trip started at Sentosa brought us now to Sardinia. Can you guess which island will be the final destination ? Its name should start with "S", just in case ! [2017/03/07]

home > news > News 224 : Sunshine and Smiles for Sardinia / naming ceremony of 11,000m3 LPG carrier Epic Sardinia