On April 1, Kyokuyo welcomed 7 new employees. We introduce them to you one by one.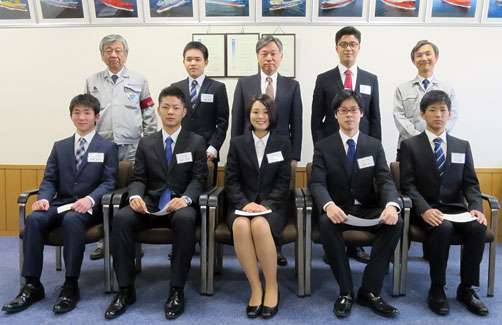 3 out of the 7 are from higher education institutions. Yuichi, graduated from the national Hiroshima University, is the first person (in the company's history) who took part in Kyokuyo's internship program in 2 consecutive years. But why ? Because he just liked the company's atmosphere, if you believe him ! Masashi is a graudate of National Fisheries University. He has 3 classmates who joined us last year, but he wanted to spend one more year at the school to study about the marine engine. As he was an active member of the university's boat club, many expect him to assume a core role in our cutter team. Aya studied English at the University of Kitakyushu. Before joining Kyokuyo, she completed a 6-months internship at Disney World of California. Her English and hospitality skills, developed through her unique working experience, will certainly help her in her new position at Kyokuyo's business department.

Kohei and Daigo are long-time friends, who attended the same kindergarten, the same primary school and the same junior high school. After 3 years at different high schools, they reunited at the Vocational Training School in the Western Yamaguchi and now again, they found themselves together at Kyokuyo ! Wow, what a story ! The predestined colleagues have obtained many shipbuilding-related qualifications at the newly established polytechnic school and already started their on-the-job training with our manufacturing teams.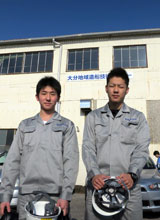 The 2 highschool graduates, Taro and Yoshihiro, were sent to Oita Regional Shipbuilding Craftsmanship Center for 3-months professional training program. First time living alone, far away from their parents, they may feel lonely at times. Don't worry though, as the wife of the guesthouse owner is so kind and warm-hearted !
At the entrance ceremony for the 7 new employees, President Katsuhiko Ochi extended words of warm welcome and encouragement, saying "Do not stop questioning and take time to deliberate. Don't limit your network to people within your team to extend your knowlege." Each of you will create the future of the company. Let's join forces to make Kyokuyo better and stronger ! Welcome ! [2017/04/11]

home > news > News 225 : Welcome ! 7 new members joined Kyokuyo