The last ship in the 11,000m3 L.P.G. carrier series for EPIC Gas Ltd. was completed and delivered to the owner on March 29, 2017. The ceremonies were attended by guests including Mr. Ben Martin, Head of Gas Shipping with global commodities trading company Trafigura and his wife Mrs. Kathryn Martin from Holman Fenwick Willan. It was Mrs. Kathryn Martin who was the ship's sponsor.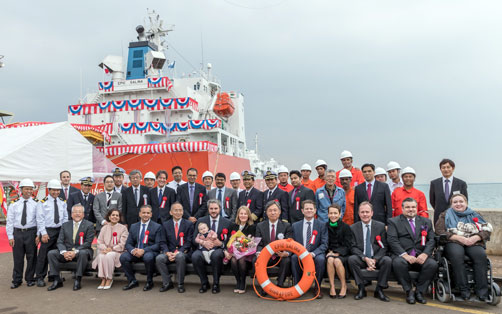 Like the cases of her elder siblings, the ship was named after a famous island in the world, whose name starts with the letter "S" - our latest product, code-named S526, received the name "EPIC SALINA".
So, where is the Salina island ? Salina is "one of the Aeolian Islands north of Sicily, southern Italy", and "it is the second largest island in the archipelago." (wikipedia). The island has 2 distinct peaks of volcanic origin, hence its ancient greek name "Didyme", meaning twins (see the photo on top). You may recall the award-winning Italian film "Il Postino", which was shot on the Salina. While, alas, nobody at Kyokuyo has never been there, it looks an ideal place for vacation, with nice views, lush nature and peaceful environment !
"EPIC SALINA" has 4 sisters : the eldest, "EPIC SENTOSA", with keel laid on August 27, 2015, was named after the popular tourist spot in Singapore. The second "EPIC SHIKOKU" after the Japanese Island famous for mandarin orange and shipowners (!). The third "EPIC SAMOS" after the Greek island in the Aegean Sea, and the fourth "EPIC SARDINIA" after the 2nd biggest Mediterranean island. Our 2-year journey that started from South-Eastern Asia finally ended at a scenic Aeolian island, after calling our home country and beautiful ports in the Mediterranean Sea, leaving us plenty of unforgettable memories.
We, on behalf of Kyokuyo Shipyard Corporation, sincerely thank EPIC Gas Ltd. for the order, their cooperation, their professional approach and.. everything ! We wish you all the best and hope we can join you for another world wide cruise again ! Bon Voyage ![2017/05/08]

[Photo of Salina Island on top by Salvatore88 (Flickr)
[CC BY 2.0], via Wikimedia Commons]
home > news > News 226 : Goodbye for Now - Naming & Delivery of 11,000m3 LPG Carrier EPIC SALINA