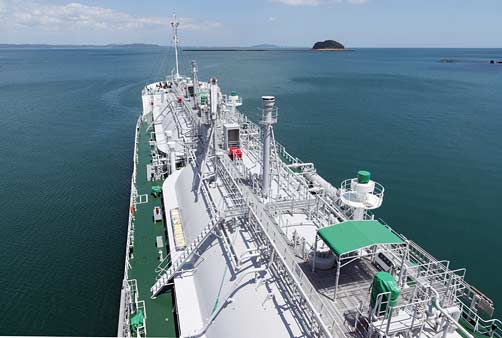 On May 26 took place the naming and delivery ceremonies for S529, a 7,500m3 type L.P.G. carrier we built for Paradise Gas Carriers Corp. of Greece. Mr. Constantinos Tsakiris, Chairman of Paradise Gas Carriers Corp. and other guests who traveled all the way from Greece were greeted by an impressive blue sky.
After the national flags of Greece and Japan were raised and the anthems for both countries were performed, Mrs. Sorina Lazar gave the name "PGC PATREAS" to the new ship and cut, with a golden axe, the rope which had been tethering our newest product to the place where she was manufactured. A warm applause broke out as a champagne bottle was smashed against her hull and confetti and colorful paper ribbons were released from a big decorative paper ball.
Afterwards, a luncheon reception was held at an Italian restaurant in the downtown, offering a lovely view over the Kanmon Straits with the Kanmon Bridge. When our "PGC PATREAS" appeared into the scene and blew proud whistles for us, we responded with loud cheers ! Do you know that the happiest moment for shipbuilders is when we see our vessel and our satisfied clients at the same time ?
Now, we are building her sister ship, and then 2 units of "semi-ref" type gas carrier for the same Paradise Gas Carriers Corp. We are excited to be part of this project and will do our best to make our products even better, by working in close communications with the owner's superintendents ! [2017/06/25]

home > news > News 227 : New Project Started ! - Naming & Delivery of LPG Carrier "PGC PATREAS"