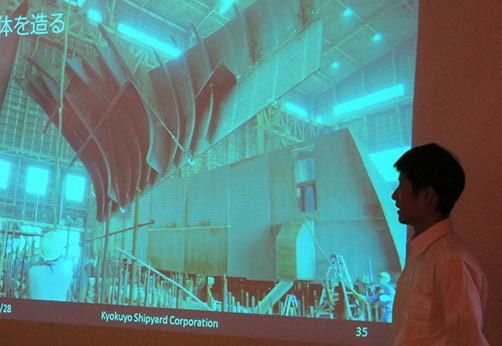 In the news 225, we introduced to you our 7 newcomers who joined us in April. The 2 high school graduates, Taro and Yoshihiro, recently came back from Oita, where they spent lonely (?) 3 months, far away from their home town, to attend the professional training program offered by Oita Regional Shipbuilding Craftsmanship Center.
Thanks to the kind and caring guesthouse grandma, and being continuously pressured encouraged by their bosses, our youngest colleagues successfully obtained a handful of shipbuilding-related qualifications, including that for welding technique. The young boys are currently performing on-the-job training within our Construction division. Their first assignment will be set in autumn this year.
---
By the way, Taro and Yoshihiro graduated from 2 different local high schools : Shimonoseki Chuo Technical Senior High School and Shimonoseki Technical Senior High School, respectively. The two schools have been fueling "ship Kyokuyo" well, as the company has regularly hired their graduates. In fact, no less than 60 crew members actually working onboard Kyokuyo are from these high schools.
However, in last April, just after Taro and Yoshihiro left the schools, the 2 institutions merged to become the biggest technician high school of Yamaguchi Prefecture, called Shimonoseki Technical High School. Its "mechanical engineering course" has, like Shimonoseki Chuo, 2 sub-courses : "Machinery" and "Shipbuilding" and each student, after studying one year at the school, has to choose which sub-course to attend in the remaining 2 years.
The problem is that a high school student of 10th or 11th grade barely has opportunity to know what is the shipbuilding and what the shipbuilders are doing. It's too bad if talented youngsters go to other industries, without knowing how exciting is to build big ships !
That's why we delivered a presentation in the new high school. After a brief introduction of Kyokuyo, we spoke about our jobs and our social roles in front of 80 students. The main speakers for the day were Yota Kaneko, working for Hull Construction Section, and Kosuke Yagi, for Outfitting Section - both are graduates of the Shimonoseki Chuo's shipbuilding sub-course and joined us in 2016.
Replying to questions from students, Yota and Kosuke frankly yet passionately explained what they are doing in Kyokuyo, their successes, satisfactions and difficulties in daily operations, and their hopes for the future. The 80 future technicians were looking curious and interested at the same time ! We would like to thank Shimonoseki Technical High School for their collaboration.
While we started this project in hope of attracting as many future candidates as we can, this class presentation certainly gave a good opportunity to the young employees to take a look of themselves, too. We expect to welcome, in 2020, our new crew members from the class !
[2017/07/10]

home > news > News 228 : Young and Even Younger - Recent Activities Of, By and For Young People