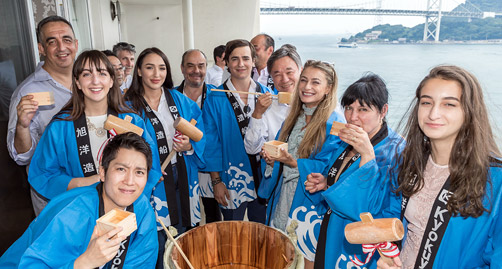 On July 15, we held the naming and delivery ceremonies of the second 7,500m3 L.P.G. carrier for Paradise Gas Carriers Corp., S530, under clear sky that told us the raining season would be leaving soon. We were pleased to have as guest Mr. Constantinos Tsakiris, President/Director of the company, and his partner Mrs. Sorina Lazar and her mother Ms. Lavinia Mardarescu, as well as 3 daughters of Mr. Tsakiris - Kyveli, Faedra and Kassandra.
After the flag exchanges and national anthems performance, it was the three sisters who played the starring roles this time. Just in front of the new ship waiting for the christening, they declared, by turn, "I name this vessel 'PGC PERIKLIS' and may God bless all those who sail in her!" But How colorful the ceremonies were, with gorgeous ladies, sunshine, blue sky, and a brand new ship painted in blue and white ! Our cheerful Matt looked even more cheerful to MC this event in friendly and familial atmosphere.
The luncheon party was held in a private flat near Akama Shrine. From the balcony of the flat on 10th floor, the guests could enjoy a superb view over Kanmon Strait - and, of course, we could see the PGC PERIKLIS, in blue and white, elegantly sailing on the water ! It was indeed another great moment for all of us !
We don't have time to be sentimental though, as Kyokuyo has already started the construction of the 3rd and 4th ships for the same Paradise Gas Carriers Corp. They are both 'semi-refrigerated' type, unlike the 2 precedent ships which were 'full-pressurized' type. We have renewed our determination to deliver the best products to our valuable customers ! [2017/08/17]

home > news > News 230 : Colorful Ceremonies Under Sunshine - Naming & Delivery of LPG Carrier "PGC PERIKLIS"