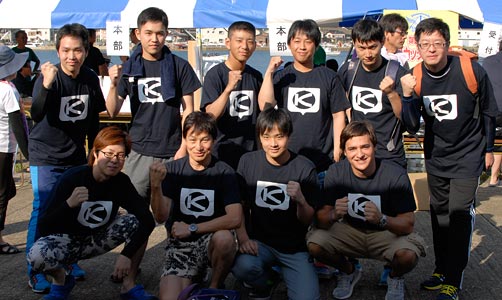 On August 27 was the day of... the 6th Shimonoseki Cutter Race ! It was sunny and windless, as the organizer wished, but exceptionally hot for the end of August. Finally, no less than 600 athletes, in 65 teams, participated in this popular event held in our home town.
The narrow strait between Hikoshima island and the mainland Honshu, where the races were conducted, is locally called "Odo no Seto" (=Odo rapid) and once known for a dangerous passage. After a series of extensive land reclamation works, which was started to be undertaken nearly 100 years ago, finally filled up a part of the strait in 1938, the rapid became a calm sea loch, where a handful of startup ship-building firms - including Kyokuyo - opened the factory around the fishery port. It's no wonder Katsuhiko Ochi, Kyokuyo's president, looked a little emotional when he saw our boat running in front of our old premises that the company left 45 years ago.
17 qualifying races, with 3 contenders each, were conducted on a 360m course (go and return of 180m), as the "open" category, to which our Kyokuyo Bluestars registered, had 50 team entries in total. All the qualifying race winners, as well as 10 fastest losers would advance to the semi-final round. At 9 o'clock, as the summer heat set in, the first qualifying race started. It looked that most of winners needed only 3 minutes or slightly more to finish the race.
In the 11th qualifying race, Kyokuyo Bluestars started brilliantly, but a small mistake in synchronization resulted in allowing a contender, "Team Yanmar 5.4ps" to row ahead of our team. Nakano, boat captain, then made an amazing job at the turn-around point, but that was not enough to catch up the leader. As the boats were approaching the goal, the Team Yanmar 5.4ps extended the lead. In spite of the Bluestars' last desperate push, our team ended up 2nd, with record of 3'36'87".
At that time, the Kyokuyo's boat team was ranked #7 among the losers, with only 6 races remaining. But our hope was diminished eventually. Kyokuyo Bluestars was disqualified as 6 more teams overtook them. The result was certainly disappointing, but we are proud of our athletes who rowed well for their first attempt. While their record was merely ranked #26 in 51 teams, 4 teams won their qualifying races with slower records. Maybe with a little bit of luck, our colleagues could advance to the next round. Who knows !?
Despite the result (or perhaps because of it), the Bluestars' spirit of teamwork is now unstoppable ! With a stronger determination, our official cutter boat team set a target to qualify to the semi-final round for the next year. Kyokuyo Bluestars also welcome new members, no matter if you are male, female, young or aged, as far as you are working for Kyokuyo.
Finally, we, on behalf of Kyokuyo Shipyard Corporation and Kyokuyo Bluestars, would like to heartily thank everybody who cheered for us on such a baking hot day ! [2017/09/19]

home > news > News 231 : Kyokuyo Bluestars Lost Its 1st Game - 2017 Shimonoseki Cutter Race