The 57th "Kyokuyo Open" golf competition took place on October 6, 2017, at the Shimonoseki Golden Golf Club. This annual event, to which we invite many guests from our customers, suppliers, subcontractors and outsourcees, among others, gives us an important opportunity to express our gratitude to our stakeholders. Every year, the competition is held on a Friday around October 10, the company foundation day, when you can expect (usually) an ideal weather to play golf, with a clear sky and the temperature not being too cold or hot.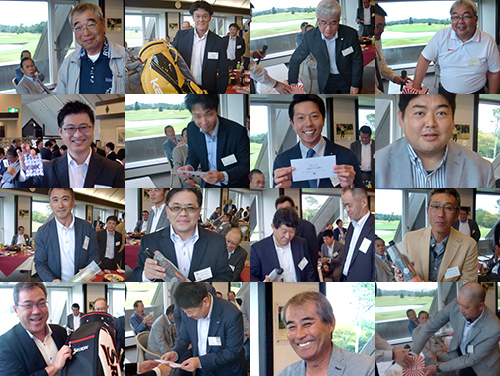 Unfortunately, this was not the case for this year though ! A couple of days before the event, weather forecast already predicted rain with the possibility of 90%. Isn't it better to rain out or postpone ? We faced a difficult decision to make. We eventually decided to go ahead with the original schedule, after consulting with the golf course manager who confidently encouraged us saying that he had never known a scheduled contest cancelled due to the rain, thanks to the excellent drainage of his course.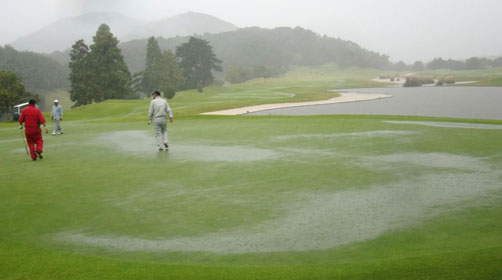 The drainage was actually good, but it was raining in earnest on October 6. Before starting, we had to shorten the event to half, as the back nine would be unplayable anyway. But what a day, with lots of funny memorable happenings here and there ! We know for instance : A golf club that flew off from the wet hands of a player hit a treetop ; there were some points where the cart path had become like a brook and carts had become like a boat ; balls didn't roll at all on puddly greens ; the players had to literally SINK their putts into the hole full of rain water, etc. etc. The staffs were even impressed by our guests who were silently carrying on playing golf in such tough conditions, just like ascetic monks !

At 11:00, when the last group was still on No.3 tee, the rain had become harder, leaving us little choice but to call of the 57th Kyokuyo Open. When the cancellation was announced, the players, soggy and cold, rushed into the 'Onsen' style large public bath room in the club house ! It was a good job by the course staff to open up the lady's bath room for our guests, as no female monk was there. After refreshing in warm bath, we enjoyed drinks, warm meals, and .. a big BINGO game to determine who would get the champion prize and 60 other awards ! When all the awards were distributed, the unusual 2017 Kyokuyo Open was finished with the president's speech.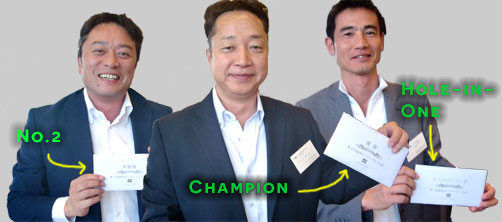 We sincerely hope that we will have a clear sky for the 58th Kyokuyo Open, scheduled on Friday October 5, 2018, at the same Shimonoseki Golden Golf Club. ! [2017/10/23]

home > news > News 232 : FORCE MAJEURE ! 2017 Kyokuyo Open Golf Tournament