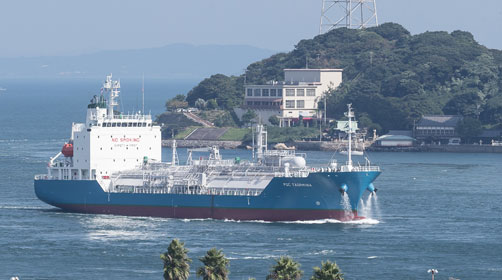 On October 11, we were blessed with lovely autumn weather for the naming and delivery ceremonies of S532, a semi-refrigerated type 7,000m3 liquefied gas carrier. Mr. Constantinos Tsakiris, President and Director of the owning company, Paradise Gas Carriers Corp., accompanied his partner Mrs. Sorina Lazar and his daughter Kyveli to this event.
After the exchange of national anthems and flags of Greece and Japan, the official naming was carried out by the sponsor of the ceremonies, Mrs. Marina Vasilopoulou - the mother of Mr. Petros Vasilopoulos, Secretary-Treasurer/Director & Principal Shareholder of the company. Mrs. Vasilopoulou gave S532 the name "PGC TAORMINA" and brought the new ship to life by smashing a bottle against her hull.
As you know well, Taormina is a scenic resort town in Sicily, at the foot of Mt. Etna. A town with millennia old legacy, it is home to many historical sites, including 'Teatro Greco', large greek theater. Do you remember that Luc Besson's masterpiece 'Le Grand Bleu' (='The Big Blue') took place in Taormina ? This year, the town hosted G7 summit also.
A luncheon reception was held at a downtown hotel looking onto the Kanmon Strait. In the middle of the party, we all moved to the viewing platform on the rooftop. From there, we saw our Grand Bleu impressively arrive on the scene and pass by just in front of us !
Now that Kyokuyo has delivered 3 new building vessels to Paradise Gas Carriers Corp., it has only 1 to go - the second semi-refrigerated gas carrier. We are doing our best to make this last ship in the series even better. We will do it to perfection ! [2017/11/06]

home > news > News 233 : Blue Sea, Blue Sky and Le Grand Bleu - Naming & Delivery of Semi-Ref LPG Carrier "PGC TAORMINA"