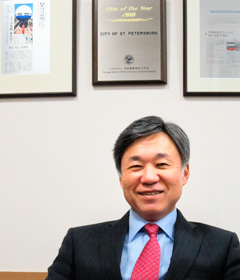 Happy New Year 2018 ! To start this year, I would like to talk about Kyokuyo's 2017 and 2018.
In 2017, assisted by the monetary easing policies implemented by major central banks around the Globe, the world economy as a whole could maintain a steady rate of growth, with strong consumer spending and rising stock prices in U.S ; with recovery in domestic demand and export expansion in E.U. ; and with expansionary fiscal policies taken by the Government in China.
Here in Japan also, the current economic upswing period on track has become the second longest in postwar Japan by exceeding the 'Izanagi' boom, which lasted from 1965 to 1970, although the growth rate was lower than other countries.
This year, the world will face a difficult mission to get out of the monetary easing game without negatively impacting the stability, while, in Japan, we have to seek, under political stability, effective solutions to our economic issues (sluggish capital investment and consumer spending) as well as to other non-economic issues (increasing geopolitical risks and aging, declining working population) that are inevitably linked to our economy.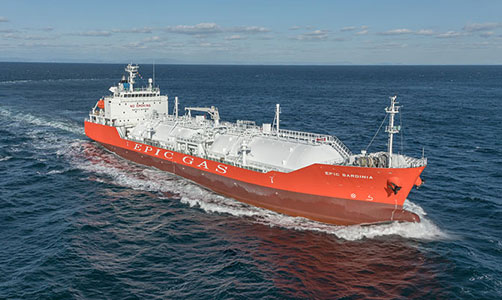 The marine industries are slowly recovering from the big global depression, with the tanker and certain other sectors left behind, though. The news that Japan's 3 biggest shipping companies - NYK, MOL and KLine - teamed up to form a joint venture called ONE, for the integration of their container shipping business, told us that even the shipping giants are forced to take drastic measures to survive the fierce competition they face. Some experts suggest that we can not hope for the real recovery unless we see seaborne trade to actually grow, propelled by stronger consumption in the countries like China or India. Frankly, I don't see clearly when all these clouds will roll away.
Looking at the shipbuilding industry. Although some shipbuilders could receive orders for RORO's and ferry boats last year, many others, specializing in bulkers or tankers, are still struggling to secure orders. The number of new projects is limited, and difficult price negotiation cannot be avoided in any case. Despite the backlog volume which still allows each plant to run reasonably busy, the recent financial performances of the major builders clearly show a stormy business environment surrounding the industry. With our only consolation so far being the continuing yen depreciation, I have to say that, this headwind will keep blowing against us, until we can feel the real recovery in the shipping market.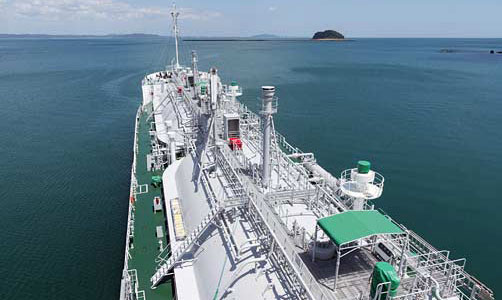 In 2017, we built 6 ships. 5 liquefied gas carriers for foreign owners and 1 container ship for a domestic owner. The gas carriers include 2 units each of 7,500m3 and 11,000m3 full pressurized ones and 1 unit of 7,000m3 semi refrigerated one - the type we built after so long ! The container carrier, on the other hand, was the latest example of our long selling 1,096TEU standard model. With the professional cooperation from the shipowners and the classification societies, we could deliver all of the vessels without any delay.
I am excited to inform you that, in spite of the unfavorable business environment around us, Kyokuyo Shipyard Corporation won several new orders last year, for a variety of ships including gas carriers, standard and ultra low temperature reefer boats and container ships. With those new projects, we have now secured a sufficient volume of work for next 2 years and a half. I am also happy to report that the company's repair division recorded an increase in sales last year, with a big contract for modification works among others. I would like to thank our domestic customers for their continuous patronage.

This year, under the market in slow recovery phase, our primary target is to add more contracts for specialized vessels in niche segments, using our strength in the area. We are currently busy in developing new designs, physically and economically optimized for our factory, and which comply with NOx tier III requirments as well as the global sulphur limit that comes into force from 2020. I hope the company can fully satisfy our customers with the proposals that we will offer.
Do you remember that I made a presentation titled "Trying to be a global technology leader among the builders of small ships" at SEA JAPAN back in 2016 ? Last year, my colleague, Hiroshi, director of sales, delivered a similar presentation at SEA ASIA, another big maritime exhibition held at Singapore in April. In the session entitled "(The Answer is) Blowing in the Wind", he showcased our strength in the areas of design, manufacturing, sales and finance, through the introduction of our globally-patented SSS-b aerodynamic line of vessels to our potential customers.
And again, I want to stress that Kyokuyo should be more competitive in terms of cost. As I told in my new year's message last year, "it is always a mission, or a challenge, for a shipbuilder to provide its product for a price that meets shipping market situations." The company will further seek materials at the right price, while increasing the productivity by streamlining processes in every section.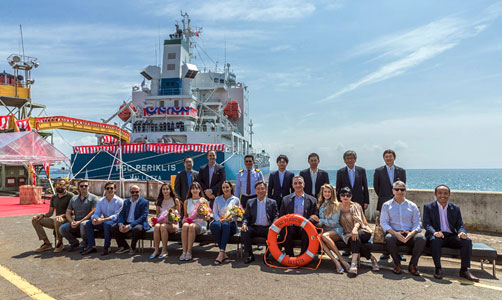 And for the conclusion, please allow me to reiterate, again, the paragraphs I used since several years. It is awkward, but I feel no need to shift my view about this !
"Before concluding I would like to express my sincere gratitude to shipowners for awarding us an order, trading houses and brokers for introducing projects, as well as our other stake holders for continuous support and cooperation. It is thanks to all of them that Kyokuyo can be running this way."

"I want Kyokuyo Shipyard Corporation to be always a busy and lively place to work. I want all its staffs and subcontractors to share a sense of unity as a team. The company may be a small for a shipbuilder, but who says good things come in big packages ?"

We will close from December 30, 2017 to January 3, 2018 for the new year. We wish all of you a happy new year !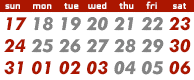 "Each of us is committed to do his/her best, in a honest way, with the pride of a ship manufacturer, keeping safety-first in mind, for the sake of himself/herself, company, local community, and our valuable customers and other people involved who have given us opportunities to build our ships."
Your continued patronage shall be highly appreciated ! Wish you a happy new year to you all !
Katsuhiko Ochi
President
Kyokuyo Shipyard Corporation
[2018/01/01]