One of the first things those who visit Kyokuyo's office will notice is our collection of 'SSS-bowed' model ships, displayed at the entrance.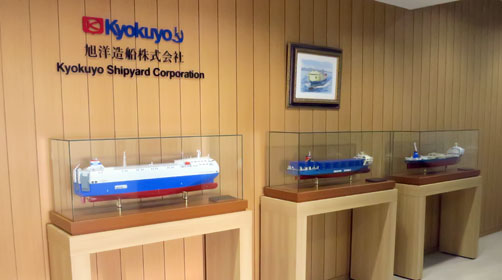 The 'SSS-bow' or Semi-Sperical-Shaped Bow, is Kyokuyo's globally-patented original technology. The unique shape of the fore part contributes to fuel-saving, by reducing the wind pressure.
With the recent addition of "Kiyoyasu Maru", the current collection comprises 3 models. Each of the 1/150 scale metal models represent a vessel that we actually built.

The left one above is the PCC "City of St. Petersburg". She is the world's first SSS-bowed ecoship, that won the 2010 Ship of the Year. And the center is "Natori". This container carrier won a couple of awards, including JALoT's "Award for Development of Technology that Reduces the Environmental Impact for Logistic Operations".
The new comer, on the right, represents the latest SSS-bowed ship "Kiyoyasu Maru". Don't miss its faithful reproduction of details for the unloading system, pipes, and other on-deck machineries, specific to the cement carrier (photo below).
At first glance you may think that all the SSS-b ships are similar, but with a closer look, you will probably notice many differences. The car carrier's elegant upper body line ; the container carrier's refined bow shape ; and the cement carrier's wise arrangement of various machineries behind the bow. The contrast shows the ability and flexibility of the builder's design team !
What will be the fourth model ship ? Stay tuned ! [2018/01/12]

home > news > News 235 : The 3rd Ship Has Arrived - Kyokuyo's SSS-bowed Model Ship Collection