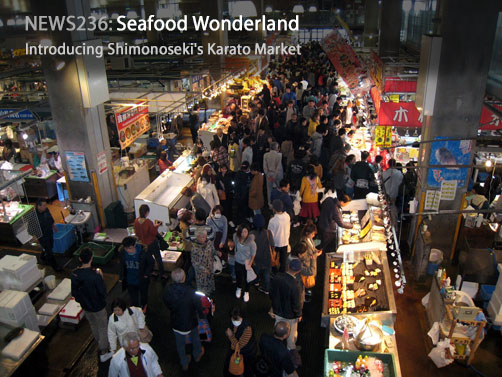 Many of you may have noticed an article in Nikkei - Japan's leading financial newspaper - published on February 24, entitled "10 best fresh food markets where you can enjoy tasting on the spot". Did you also notice that Shimonoseki's Karato Market

was ranked #3, placed ahead of the world-famous Tsukiji Fish Market (#4) and Hakodate Morning Market (#6) ?
For the rankings, 28 markets were judged by a group of authorities (in food logistics, tourism etc.) on various criteria including "fresh local food availability", "easiness to take foods on the spot" and "recent improvement in attractiveness" according to Nikkei.
Karato Market, as its name implies, is a seafood market located in Shimonoseki's Karato quarter. Many of Kyokuyo's employees pass by the market daily, but the Shimonoseki residents are generally not keen visitors, although it's open to the public, partly due to traffic jams around the facility these days. But what a shame for a Bakankko (= Shimonoseki native, an old way of saying) to know nothing about the "recent improvement in attractiveness" of our home town fresh food market ! So, I visited there on last Sunday, for the first time since long.
The market was crowded with shoppers and tourists. Unlike other - bigger - markets like Tokyo's Tsukiji, where only professional wholesalers or fishmongers are expected to sell articles, I was happy to know many local fishermen still selling their fresh catches right off the boat. There was a hawker area, called "Ikiiki Bakan Gai" (= lively Shimonoseki street), where more than 40 small shops were selling ready-to-eat cooked products - sushi, fried fish, fish stew, etc. - to domestic and foreign tourists. Energetic calls, shining fishes, colorful plates and inviting smells - such were the secrets of this seafood wonderland.
The market is capped by a rooftop deck for exhausted shoppers. I bought a "Kaisen-don" - rice bowl dish with thinly-sliced sashimi on top - at "Ikiiki Bakan Gai" and sat down on the deck. With fresh sashimi and a great view of Kanmon Strait, just watching ships coming and going, I found myself happy to be here in this port town.
If you come to our office, or factory, and if you are a foodie, I would recommend to pay a visit Karato Market. "Ikiiki Bakan Gai" hawker area is open 10:00-15:00 on every Friday/Saturday and 8:00-15:00 on Sunday/holiday. [2018/03/13]
home > news > News 236 : Seafood Wonderland - Introducing Shimonoseki's Karato Market