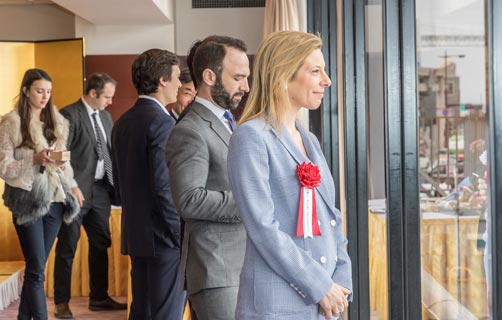 Our first delivery ceremony in 2018 was that for S533, a semi-refrigerated type L.P.G. carrier of 7,000m3, ordered by Paradise Gas Carriers Corp. She is the younger sister of "PGC TAORMINA", born 5 months ago.
For the ceremony carried out on March 9, Mrs. Eirini Vasilopoulou, ship's godmother, her husband Mr. Andreas Douros, and Mr. Simos Camhis, CFO of the owner, came all the way to Shimonoseki, to witness and celebrate the birth of the younger sister.
After the performance of the national anthems and flag exchanges, Mrs. Vasilopoulou gave her first name 'Eirini' to the newly built ship - and voilà, our newest product became "PGC EIRINI". It was a bit difficult birth though, as the tethering rope was tougher than expected and the godmother had to swing the axe several times ! We are sure this kind of unexpected, small happenings will become a part of precious memories for everybody there, including the man in charge of triggering the firework !
We were told that 'Eirini', the name the vessel inherited from her godmother, has the meaning of 'Peace'. What a wonderful name to give to the last of the total 4 ships we built for Paradise Gas Carriers Corp. this time ! Every person working here at Kyokuyo sincerely wish safe, and peaceful voyages for PGC Eirini and her siblings.

Starting with "PGC PATREAS", with keel-laying in November 2016, Kyokuyo Shipyard Corporation constructed "PGC PERIKLIS" last summer, "PGC TAORMINA" last november, and "PGC EIRINI" now. Building a series of 4 gas carriers in a row for Paradise Gas Carriers Corp. was such a wonderful experience for us, filled with many unforgettable memories ! We will never forget the contract-signing-in-short-pants at Mykonos (photo right) !
We would like to thank again Mr. Constantinos Tsakiris, his family and all other people related to the company for their order, fairness, friendliness and the great time ! [2018/04/18]
home > news > News 237 : Wishing Safe & Peaceful Voyages
- Naming & Delivery of Semi-Refrigerated LPG Carrier PGC EIRINI