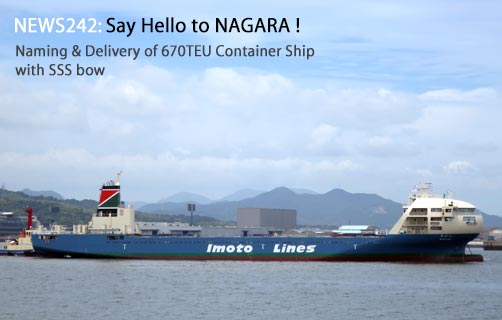 We are happy to report the birth of our fifth SSS-bowed vessel, named "NAGARA" (S-547). The ship, ordered by Imoto Lines, Ltd., is a container carrier that transports up to 670 TEU.
For the naming and delivery ceremonies we had many important guests, including Mr. Shinichiro Otsubo, Senior Deputy Director-General of Maritime Bureau, and Mr. Shuji Uehara, Chief of Port Logistics Strategy Office in Ports and Harbours Bureau, both gentlemen from the Ministry of Land, Infrastructure, Transport and Tourism (MLIT) of Japan.
The ceremonies also had very special, young guests - 22 x 5th grade kids from Okaeda Elementary School of Shimonoseki City, whom we invited as part of "Let's go to explore the world's biggest industrial product called SHIP !" program, co-organized by The Cooperative Association of Japan Shipbuilders. We thank the shipowner for their warm approval.
The SSS bow, or Semi-Spherical-Shaped bow, is the Kyokuyo's globally patented technology that helps save fuel by reducing the wind pressure. "NAGARA" is the 2nd SSS-b ship in Imoto Lines' fleet, with "NATORI" delivered 3 years ago. While NAGARA shares the same lines, same length (136m) and similar gross tonnage (7,300tons) with NATORI, the newest vessel has an array of new features.
The biggest news may be the introduction of "eE-Naviplan" navigation/operation optimization system that enables advanced weather routing and total scheduling management, and that of "Super VecTwin" rudder system that dramatically improves the ship performance in port. With other new fuel saving technologies, like "Composite Eco Stator" that improves the water flow to the propeller, or "ECO-Cap" that diffuses the hub vortex for better thrust efficiency, further 11% fuel saving is expected compared to her predecessor "NATORI", which is already known for her excellent fuel-saving performance. No wonder our newest ecoship has been awarded the maximum four stars by the Japanese Government's fuel efficiency grading program for coastal ships.
On July 11, in the ceremonies, it was Mr. Takayuki Imoto, President and Representative Director of Imoto Lines, Ltd. who named the vessel. When Mrs. Nanae Imoto, president's wife, cut the tethering rope with a golden axe, fireworks were set off with a long duration whistling sound. To celebrate this event, we had ordered these special fireworks with tri-colored smoke, and the number was also more than usual. This special arrangement made the kids so excited to scream in delight !
The ceremonies were followed by a big luncheon reception at a hotel in central Shimonoseki. After a special message from Mr. Michio Kikuchi, Director-General, Ports and Harbours Bureau, was read by Mr. Uehara, Mr. Otsubo delivered a congratulatory speech and Mr. Kenji Hokazono, President and CEO of Kobe-Osaka International Port Corporation proposed a toast. After present exchanging, Mr. Masamichi Morooka, President and CEO of Yokohama-Kawasaki International Port Corporation also made a speech, in which Mr. Morooka said he was looking for a next ecoship for Imoto Lines to follow NATORI and NAGARA.
From the speeches of the important guests, we could feel their high expectation for NAGARA, as large coastal feeder container carrier, to play an important role in the Government"s "International Container Strategic Ports" plan. Just like "NATORI", "NAGARA" was named after a Japanese river, with the fact that Japan"s economy in Edo era was supported by riverine "feeder" logistics in mind. In Japanese writing system, "NAGARA" is written as "長良", which literally stands for "long + good". So, we would like to wish "NAGARA" a long and good life as her name implies !

[2018/08/16]
home > news > News 242 : Say Hello to NAGARA !
- Naming & Delivery of 670TEU Container Ship with SSS Bow