On July 15, we had the hottest event of this.. already incredibly hot summer. It was (drumming) the 7th Shimonoseki Cutter Race ! If you still remember that the race is one of the big sport events annually hosted by our home town Shimonoseki, you probably remember also that the first ever challenge of our official boat team, "Kyokuyo Blue Stars", ended in bitter disappointment last year.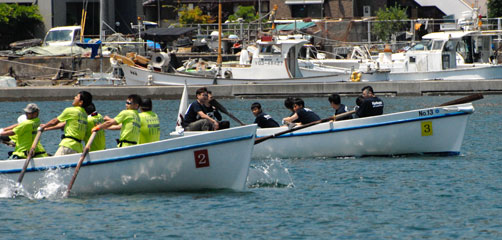 This year, a total of more than 500 athletes in 63 teams participated the competition conducted at Odo no Seto. Starting at 9 o'clock in the morning, 21 qualifying races with 3 or 2 contenders each were held one after another. The rule remained the same : all the qualifying race winners, as well as 10 fastest losers would advance to the semi-final round. As Blue Stars found themselves in the 16th race, our coach, Hiroshi (recently appointed managing director) had plenty of time to devise a strategy.

After 2 hours of waiting under harsh sunlight, the time for revenge finally came ! 3 boats made a brilliant start, and soon, we realized that the race was actually our duel against "Muteki Kantai (= Dream Armada)". The Blue Stars was running closely behind the Armada, but it was Okay, as Hiroshi's plan was to make a push after halfway point. Good pace, smooth turn-around, everything was going according to plan, until, some 'starboard side' oars hit each other when our oarmen just tried to make the planned push. The opponent didn't miss this opportunity, and, Kyokuyo Blue Dragon finished the race in 2nd position, about 4 seconds behind the leader.

We still had slight hope as, at that time, our record (3'39"30) was ranked #9 among the 'losers' - but it didn't last long. When all the qualifying races were finished, Blue Stars' position went down to 13th, with approximately 10 seconds behind the top 10 losers. In brief, our official boat team needs to shorten its time by 10 seconds, to be qualified in 2019.
The result that our team lost 2 games in a row is certainly very disappointing, but in Japan too, we have a saying "Third time's a charm". What's better, there is also an idiom : "Sitting on a cold stone for 3 years to make the stone warm" (= patience will bring good results). We hope our third challenge in 2019 will surely bring good results ! [2018/08/31]
home > news > News 243 : It's Time for REVENGE ! 2019 Shimonoseki Cutter Race