Kyokuyo Shipyard Corporation is glad to let you know that Tetsuo Mitsui, who is leading its design team since more than a decade and known as 'father' of Kyokuyo's SSS (Semi-spherical shaped) bow, was awarded a commendation from the Minister of Land, Infrastructure, Transport and Tourism.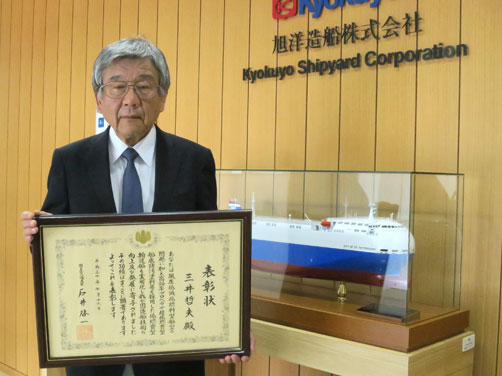 The Commendations are awarded annually to individuals and groups with outstanding achievements in various ship-related fields including shipping and shipbuilding, to acknowledge their contributions to the industries. And Mitsui was named in recognition of "his significant contributions to Japan's shipbuilding technologies through the development of energy-saving ship models that reduce wind-pressure, as well as the realization of other eco ships with high-efficiency propeller, new generation anti-fouling coating, etc. ".

On July 24, the Marine Day, the award ceremony was held at the headquarter of the Ministry of Land, Infrastructure, Transport and Tourism, located at the heart of Tokyo. During his acceptance speech, Mitsui stated that "I received the award but it should go to each of my colleagues who did his or her best in materializing my roughest idea of SSS bow. I can't thank enough my colleagues, subcontractors staffs, and of course ship owners, people from trading houses, classification societies, research institutes, equipment and material suppliers."
Congratulations Mitsui-san ! We are very proud of the boss of our design team, and our technical abilities and engineering know-hows. We try to keep up the great work ! [2018/09/11]
related news :
about Tetsuo Mitsui
about Kyokuyo's Semi-Spherical Bowed Ecoships
home > news > News 244 : Tetsuo Mitsui Awarded Prize (Again) !