For those who live in Japan, 2018 will be remembered as a year of big typhoons. With the first one, called Bolaven, being born just on the 3rd day of the year, we had already 26 typhoons so far, and 5 out of 26 had directly hit the Japanese archipelago. The typhoon can take place year-round, but its 'high season' in Japan is between August and October. It can therefore give a concern, a headache, troubles, or even actual damages to the organizing team of 'Kyokuyo Open' golf tournament, usually held in the first half of October every year.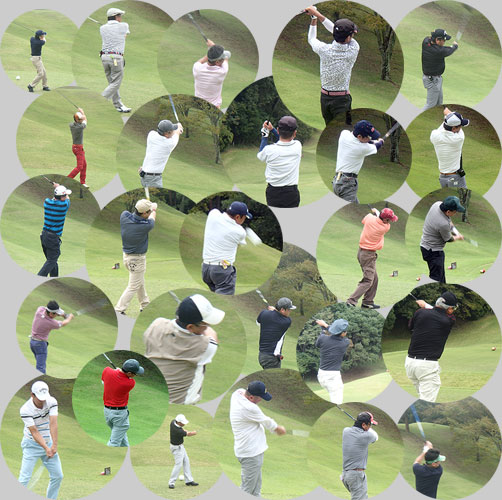 The 2018 Kyokuyo Open was scheduled on October 5 at Shimonoseki Golden Golf Club. On September 29, despite our wish, a baby typhoon Kong-rey was formed near Mariana Islands and started its journey heading Japan. And despite our wish, It grew fast to become a Category 5 (strongest) super typhoon on October 2, when everybody here remembered the last year's nightmare. But quite luckily, Kong-rey slowed down its pace thereafter, just as it accepted our wishes ! So, unlike last year, we had no rain, and no strong wind that could affect the playability on the tournament day. Yay!

This year, we invited 107 players (who played in 27 groups) to the event which we hold to show our gratitude to our stakeholders - parts and materials suppliers, subcontractors, various service providers, among others. Since the 57th Kyokuyo Open was called off during the first half for heavy rain, the participants looked very eager to win, in the morning, and ready to challenge the difficult course designed by Jack Nicklaus.

And like every game does so, the 58th Kyokuyo Open created winners and losers - let's focus on winners here ! The champion trophy went to Mr. Koichiro Kondo, president of JRCS MFG Co., Ltd. A golf meister who made hole-in-one 2 years ago, he was one of the favorites in the Kyokuyo Open. Mr. Yasuhiro Yamahoka from Shinkai Kogyo, 2014 best gross winner, won the best gross prize again after a neck-to-neck battle with other powerhouses.

Another hero perhaps is Mr. Katsuhiro Matsuba of Mansei Inc., 2012 & 2013 best gross winner, who snatched a bunch of smaller but important prizes, like "longest drive award" for out #5, "closest to the pin award" for out #3 and #17. It is also worth mentioning that 60th, 70th and 100th place prizes and many of less important prizes went, thanks to luck, to employees of the host company (=Kyokuyo) and they were warmly booed by other losers guests !

After we had a great time at the awarding ceremony, Kyokuyo's president Katsuhiko Ochi delivered a closing speech. While transmitting sincere thanks to the guests, he updated how things were going at Kyokuyo and what it would do the next. Before ending, the company's boss didn't forget to ask the stakeholders for continuous support, to take steady steps together. [2018/11/07]

home > news > News 245 : Stop the Typhoon !
58th Kyokuyo Open Ended Without Upset