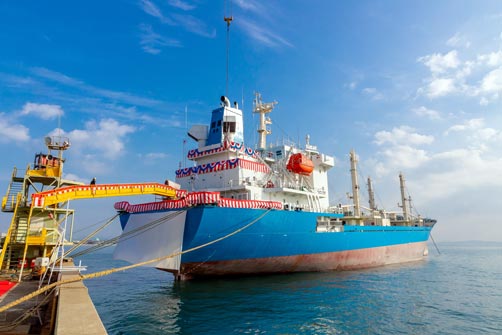 Kyokuyo's first newbuilding ceremonies in 2019 were for S-540, 307,000ft3 reefer carrier ordered by Boyang Alaska, S.A. On January 8, Boyang's Chairman, President, Director and Director's beloved daughter came to our factory to celebrate the birth and naming of the new ship.
After the national flags of Korea and Japan were raised, accompanied by the national anthem of each country, the Chairman of Boyang Ltd., named our newest product "Boyang Bering". When the tethering cord was cut by the godfather, a champagne bottle smashed the reefer's hull and a 'Kusudama' - Japan's traditional big paper ball - split open to drop multi-colored confetti and streamers. Fireworks were also set off into the new year's sky.
The luncheon reception was held at a banquet room in a downtown hotel. After the presidents of the builder and shipowner exchanged speeches, a guest from Korea Development Bank took the stage to offer his congratulations. The VIP guests were then invited to take part of 'Kagamiwari' breaking-wooden-sake-barrel-ceremony. "Ei! Ei! Oh!" with a loud battle cry, the barrel lid was broken open with wooden mallets !
Thanks to the nice view over Kanmon Strait that the room offered, all of us could share, with a wooden square sake cup in hand, a really great moment when we could witness Boyang Bering's first voyage through the wide window.
Everybody at Kyokuyo wish the new ship and her crew fair winds and successful voyages ! [2019/02/12]
home > news > News 247 : EIEIO! Battle Cry Celebrated New Reefer
- Naming & Delivery of 307,000ft3 Reefer Boat "Boyang Bering"