On Monday, May 27, a factory tour in the early summer sunshine was offered by Kyokuyo for 32 students from Yumeagaoka Junior High School of Shimonoseki City.
The event was held as part of the Cooperative Association of Japanese Shipbuilders(CAJS)'s 'Monozukuri Taiken Kouza' (= program to experience the manufacturing industry) for young generations.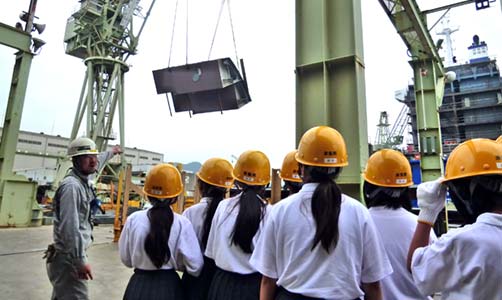 This unique program, sponsored by the Japan Foundation, aims at giving them the opportunity to learn and experience the shipbuilding industry first hand, and hopefully, to think about its importance for a country surrounded by the sea.
In the Shimonoseki area, where Kyokuyo and many other shipbuilders are based, this educational factory tour program is 'intra-curricular" i.e. recognized as part of school curriculum since 2013.
The tour started with a lecture from the boss of our production division. Thanks to the generous support and understanding of the shipowner, we could invite the adolescents into a shiny brand new container ship which was expected to be delivered on the very next day !
The cheer of joy and surprise, that we could hear here and there, and curious and satisfied faces just made us happy. Most of our workers, who usually look serious and rough, were smiling naturally during the event. We shared a happy time, really.
"How many sumo-wrestlers can be transported by this container carrier ?" During QA sessions after the tour onboard, many original questions puzzled the production boss !
Hey young boys and girls, we hope you will recall one day that we had a great time together in our factory. Ah, If you want to come back and join Kyokuyo when you finish your study, don't forget, you will be most welcome, too !
[2019/06/07]
home > news > News 251 : Teenagers Invited to Dockyard
- Factory Tour in the Early Summer Sunshine