Kyokuyo Blue Stars is the Kyokuyo Shipyard's official rowing team. Since their formation in 2016, the atheletes participated in the 'Shimonoseki Cutter Race' twice, in 2017 and 2018, but failed to advance to the quarter final race twice. Naturally, our Blue Stars were keenly looking for the 2019 Race, as the perfect opportunity for revenge.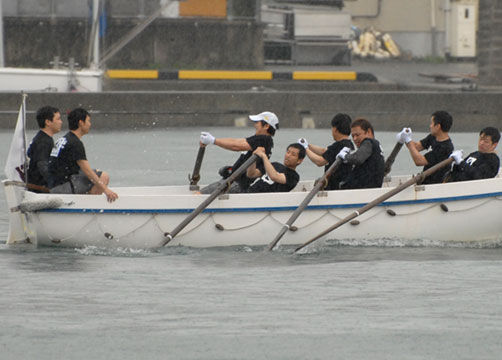 The 8th Shimonoseki Cutter Race was held July 21, 2019 while we were still in the middle of the rainy season called 'Bai-u' - which usually finishes around beginning of July. Many were even worried that the event would be cancelled on the previous day, as the sitting 'Bai-u' weather front, turbocharged by Typhoon Danas, had brought stormy weather around the city. It was only 6:40 a.m. of the event day, 2 hours before the start, when the organizers finally gave a go ahead. We were then still doubting though, as we had heavy rain on the way to the venue, but they turned out to be right, because quite magically, the rain and wind stopped before 8:30 a.m.
However. The organizers were forced to rearrange and reschedule the whole race scheme, as only 3 cutter boats were readily usable for the competition due to the bad weather on previous days. Originally, winners of every qualifying race (with 3 contenders each) and 10 fastest losers were allowed to advance to the semi-final round. For the 2019 race, the whole semi-final round was cancelled, with 3 fastest boats in 'time trial' qualifying races advancing directly to the final race. Since our team's target was to race in the semi-final round, this change virtually broke the hopes of our Blue Stars and many of our rivals...
The rearranged qualifying races started in the afternoon and Kyokuyo Blue Stars reunited at 12:40. But what is the heck !!! Just at the moment when our team made an excellent start, it suddenly started raining cats and dogs again !!! The Blue Stars could deal with the trial and ran closely behind the strong Bridgestone team. After turn-around point, our athletes did their job like mad !! Their strokes looked somewhat unsynchronized, but became visibly stronger and stronger. Kyokuyo Blue Stars finished the race in the 2nd position, but their time was better than in 2018 race by more than 15 seconds.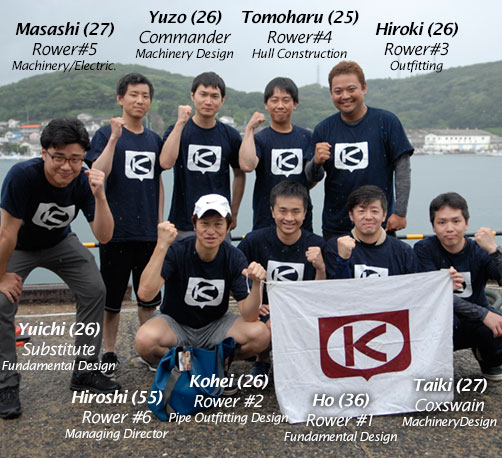 As matter of fact, our rowing team failed again to advance to the next stage. They however fought well, staying highly motivated despite lots of unforeseen trials and with only limited number of supporters due to the bad weather (it should be mentioned that our president Mr. Ochi was there to send loud cheer). I would like to applaud them for their fighting spirit. I feel sure that our corporate rowing team will definitely do it next year !
[2019/08/06]
home > news > News 254 : Blue Stars Improve, But Not Enough
- Tough Fight in 2019 Shimonoseki Cutter Race