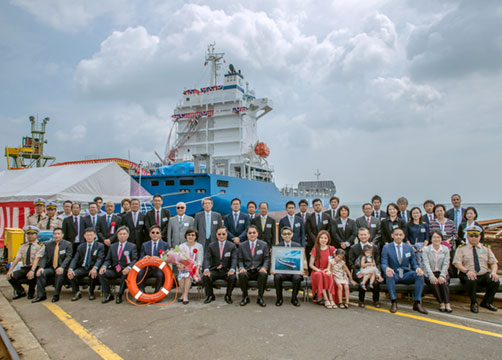 August 23 was the day of the departure of our latest product, S545. We had been a little bit anxious after bad weather on previous days, but the blue sky shining through the morning clouds melted our worries away. The ship was a container carrier that could load up to 1,096TEU, and she was the first in a series of sister vessels Kyokuyo is building for Taiwan-based T.S. Lines.
It was a lively ceremony with more than 40 international guests, including Mr. TS Chen, Chairman of T.S. Line and his family, and also Mr.Chang Chao-Shun, Chairman of the Mega International Commercial Bank Co., Ltd.
At the beginning of the ceremony, a bouquet of flower was presented to Mrs. Ruey-Yuan Fu. Mrs. Fu, Senior Executive Vice President of the Mega International Commercial Bank, was the sponsor of the new ship. After the national anthems of ROC and Japan were played and the flags of both countries were raised, Mrs. Fu named this newest vessel in the world "TS SHANGHAI" and performed the "cord-cutting". Fireworks reverberated in the now bright sky, to celebrate the birth of the container carrier.
A banquet was held at the hotel in the city center. After the greeting speech of Katsuhiko Ochi, Kyokuyo's President, it was 'kagamiwari' show time ! Mr. TS Chen, his beloved daughter Christy and her family members all went up to the stage. 'Bang!' When the main guests and the host broke a wooden sake barrel, the room was filled with with joy and applause.
Mr. Takashi Nakamura, General Manager from Marubeni Corporation offered a toast. We had a great time talking, laughing and having fun together. The party ended with the closing speech delivered by Mr. TS Chen.
While wishing all the best to the ship and her crew, we would like to thank the shipowner to allow our special guests to join the ceremony and to explore in the ship. They were Chofu Elementary School students and their parents. We felt very happy to be able to offer such an unforgettable experience to local kids at the end of summer vacation !
[2019/10/3]
home > news > News 255 : Joy & Applause
- Naming & Delivery of 1,096TEU Container Ship 'TS SHANGHAI"