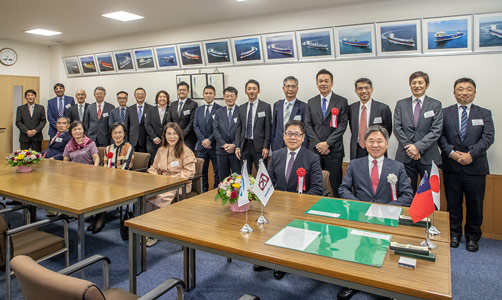 On November 13, the second 1,096TEU container carrier we built for T.S. Lines was named and delivered. Like her sister built in August, the new ship - S546 - was painted in sapphire blue, which looked great with light azure late autumn sky. We were delighted to welcome more than 40 guests, including the guests of honor Mr. & Mrs. TS CHEN, Chairman of TS Lines, Mr. & Mrs. Shang-Ying WU, Chairman of Kent Shipping, as well as Mr. Chien-Chung CHEN, Senior Executive Vice President of Mega International Commercial Bank.
The events started when Kyokuyo President Katsuhiko Ochi presented a bouquet of flowers to the sponsor of the ceremony : Mrs. Shiou-Mei LIN, Senior Vice President of Mega International Commercial Bank. After the national anthems of ROC and Japan were played, Mrs. LIN gave the ship the name "TS YOKOHAMA". At the moment she performed the ceremonial rope cutting, fireworks were set off and we felt new life was breathed into our latest product !
The celebration party was held at a hotel in the downtown. After the opening speech delivered by the Kyokuyo's President, it was 'Kagamibiraki' showtime ! With a firm shouting 'EI-EI-O', Mr. & Mrs. CHEN, Mr. & Mrs. WU and other main guests performed the Japan's traditional sake-barrel-breaking-ceremony on the stage. When the freshly opened sake was distributed to all the attendants, Mr. Takashi Nakamura, General Manager from Marubeni Corporation, proposed the toast, after his short speech.
And our "TS YOKOHAMA", shining in blue, appeared into the scene at the perfect timing. We were happy to see, through wide windows looking down the Kanmon Strait, the new ship propelling toward the open sea for her first voyage. The pleasant party ended with a closing speech by Mr. Gavin TO, President of TS Lines.
Meanwhile, we are now working hard to complete the 3rd sister for T.S. Lines, of which the keel was laid on November 7. As always, we are doing our best to make our customers happy and satisfied !
[2019/12/17]
home > news > News 257 : Beautiful Shades of Blue
- Naming & Delivery of 1,096TEU Container Ship 'TS YOKOHAMA"