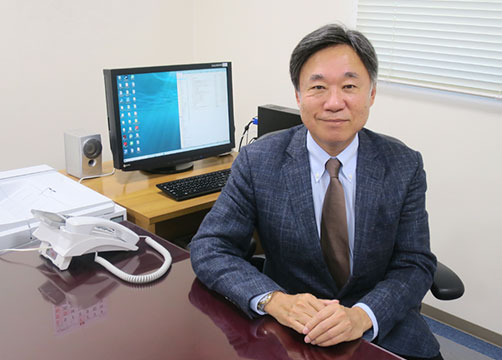 In 2019, we strongly felt the divergence between the financial and real economies, with the economic growth rate of major countries remaining sluggish, in 'low-temperature' state, while the many stock price indexes were keeping high levels.
The absence of positive waves in the world economy and a clear view for economic expansion, together with the remaining uncertainty about how to respond to the new environmental regulation for SOx emissions, coming to effect this year, led the shipping companies to take a cautious stance on reinforcing their fleet. Instead, they put more and more focus on the profitability of cargoes.
As result, the shipbuilding industry was suffering from an extremely harsh market, where companies were exposed to price competition to win a very limited number of projects. It was an impressive year, with shipbuilding companies beginning to move across barriers to expand their business scale to withstand this tough headwind : in China, we saw a blockbuster merger between the 2 biggest players - CSSC and CSIC ; in Korea, the world's No.1 shipbuilder Hyundai started a merger procedure to acquire No.3 Daewoo, and in Japan also, some important players announced capital tie-ups or business transfers.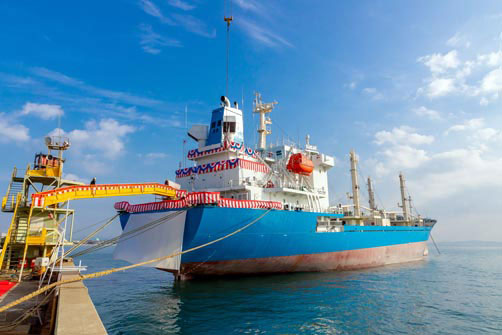 In spite of the strong back current, Kyokuyo Shipyard Corporation could secure, during 2019, new orders for 8 ships - 1 x reefer, 4 x liquefied gas carriers and 3 x container ships - which made our order book full up until the 1st quarter of 2022. I believe that repeat orders for our highly-acclaimed ecoship line and our swiftness in responding the SOx regulations contributed to new orders.
On construction side, the company built 6 new ships - 3 x reefers and 3 x container carriers - and delivered them to respective owners as scheduled. In ship repair sector, which is another mainstay for us, Kyokuyo recorded a significant increase in sales over the prvious year thanks to big modification projects and continuous patronage from Japanese shipowners.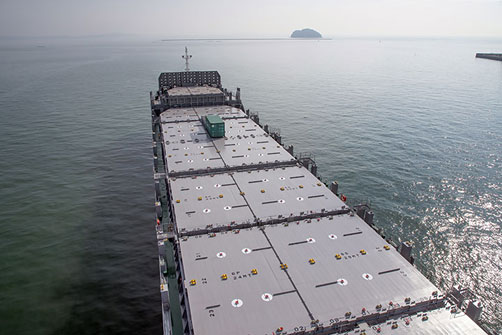 Here are two of my resolutions for 2020 - they are not new at all, though. They are more like renewed determination.
First, we will implement our sales strategy more throughly : to sense changes of tidal current and potential needs quickly ; to maintain our design team capable of developing high value-added and high-performance products for small lot orders ; and with our ability and experience to directly serve world-wide customers, we will focus more on niche markets around the world.
Second, we have to further enhance our competitiveness, which is the lifeline for survival. Sure, as always there are some difficult factors, like fluctuations in the procurement price of materials and equipment, sluggish market and aging blue-collar workforce, for instance, but we will make continuous and steady efforts to improve products at the design level, reduce man-hours and assure strict badget management, while we will strengthen employees' motivation by delegating authority to younger leaders.
As the ship prices are affected by the shipping market, the shipbuilding company is destined to fight an endless battle to ensure profitability in any market situations. Kyokuyo will navigate its own way, with strong leadership.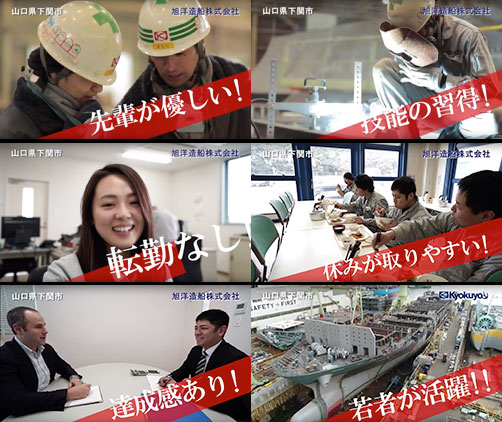 By the way, we have got 2 happy news that made our holiday season even happier.
Despite the general recruitment difficulties in recent years, we have been able to welcome no less than 12 new employees this April. Our first ever TV commercials that were aired last March appeared to have worked well ! Thanking our newest colleagues to chose our company to start their career, I realized our responsibility at the same time, to keep providing a comfortable work environment to meet their expectations, by respecting, of course, the new 'work-style reform law' and supporing a good work life balance.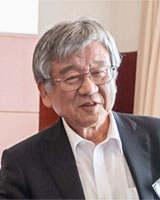 The other big news is that our senior managing director and chief designer Tetsuo Mitsui, "father of SSS-bow' and winner of many prizes, won this time the Prime Minister Prize in "#8 Monodzukuri Nippon Grand Award". This biannual award is jointly organized by the Japanese Government and the Japan Machinery Federation to recognize outstanding achievements in inventing technology or product which can be labelled "the world's first" or "No.1 in the world". Mitsui will be awarded the prize on January 8, 2020, for his leading role in "development and commercialization of wind-pressure-reducing and fuel-saving merchant ship" which is "indeed represents (Japan's) precious assets of which Japan can be proud."
As a colleague working together with him since long for Kyokuyo, and as a friend who knows the uninterrupted efforts he has made, I feel insanely happy for him. He deserves this.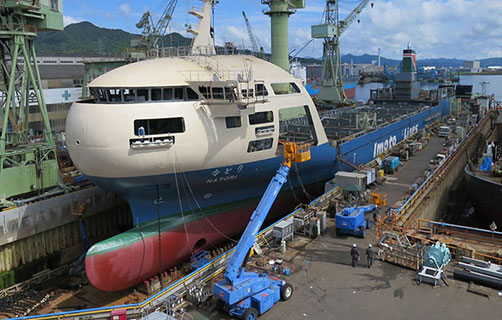 Now, the signs of a turnaround in the economic environment may be seen, as result of the ease of US-China trade friction and the prospect of Britain leaving the EU. Hoping that this will lead to a recovery in the shipbuilding market, I would like to end my long greetings by repeating my new year mantra.
"Before concluding I would like to express my sincere gratitude to shipowners for awarding us an order, trading houses and brokers for introducing projects, as well as our other stake holders for continuous support and cooperation. It is thanks to all of them that Kyokuyo can operates in this healthy way."

"I want Kyokuyo Shipyard Corporation to be always a busy and lively place to work. I want all its staffs and subcontractors to share a sense of unity as a team. The company may be a small for a shipbuilder, but who says good things come in big packages ?"
"Each of us is committed to do his/her best, in a honest way, with the pride of a ship manufacturer, keeping safety-first in mind, for the sake of himself/herself, company, local community, and our valuable customers and other people involved who have given us opportunities to build our ships."
I wish you a happy and healthy year !
Katsuhiko Ochi
President
Kyokuyo Shipyard Corporation
[2020/01/01]

home > news > News 258 : Against the Headwind and Backcurrent
- Season's Greetings for 2020