In an effort to provide support to the communities where they live and their company operates, a group of Kyokuyo executives has donated 6,000 surgical masks with >99% BFE to Shimonoseki city officials.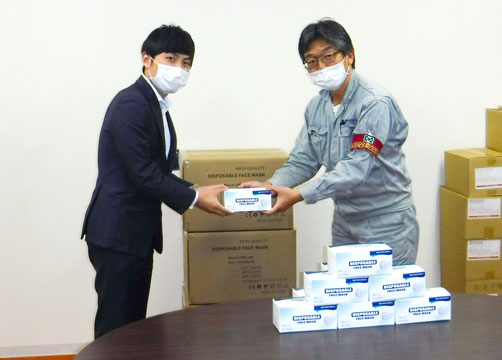 The Japanese government is making a one-time 100,000 yen cash payout to every citizen in order to ease the economic fallout from the coronavirus outbreak, and the group decided to use the money to show solidarity with local people in the fight against COVID-19, buying face masks to donate.
When Norihiko Harada, VIce President of Kyokuyo, visited the city office on May 19 to hand over the donation, he was worried that it might be a little too late. But it was not the case : Mr. Tsukumo, Director of the city's Health Department, told him that local healthcare workers were still in desperate need of surgical masks as they were forced to reuse the masks which were not designed for reusing. The hospitals in Shimonoseki area need a total of 40 thousand medical masks per month, according to the Director.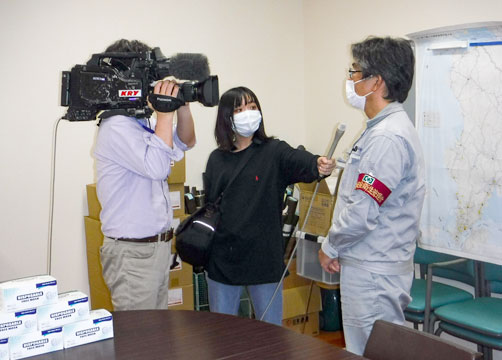 Our Vice President then explained to Mr. Tsukumo about the the measures Kyokuyo was taking to prevent the Covid-19 spread within the organization. The city official was very surprised to know Kyokuyo was spending more than 1 million yen of extra money for every sea trial to deal with the coronavirus.
On May 14, the state of emergency was lifted in 39 of the Japan's 47 prefectures and it seems that the country is exiting the first wave of Covid-19. We know nevertheless that we can't let our guard down. With the safety as our top priority, Kyokuyo is committed to taking every possible measures to make sure everyone who is on our premises gets home safely to their families.
[2020/05/25]

home > news > News 263 : Kyokuyo Execs Donates 6,000 Surgical Masks