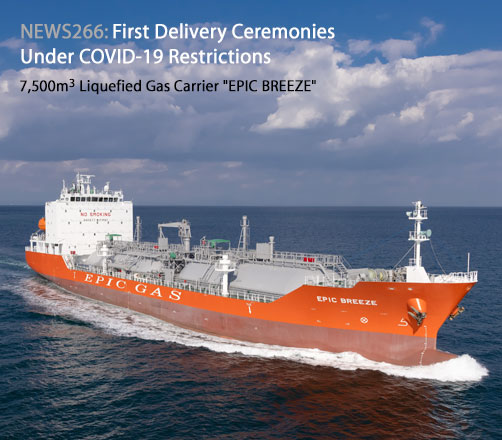 On November 27 was held the naming and delivery ceremony for S551, the 5th 7,500ft3 type LPG carrier Kyokuyo has ever built.
Due to the spread of the Covid-19, we were forced to cancel all delivery ceremonies with (usually many) attendees this year. And this was our very first delivery ceremonies in 2020, after taking all possible measures against the coronavirus.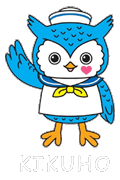 JRCS Corporation, a leading marine equipment manufacturer in our hometown Shimonoseki City, has also invested in the owning company, "STRAITS KIKUHO S.A.", which will start the shipowner business with this ship being chartered out to EPIC GAS Ltd.
But Kikuho ? What is Kikuho ? 'Kiku' stands for 'to listen' in Japanese, and 'ho' is a particle of emphasis in the local dialect of Shimonoseki, which you put at the end of a sentence to make it surer. That's why JRCS Corporation, which focuses on creating a culture of open communication and improving the way they listen to others, named their official mascot (right) and the ship owning company "Kikuho".
The ceremonies were attended by Mr. Koichiro Kondo, Chairman and President of JRCS Corporation and his wife Yuka, Mr. Ryoji Mochizuki, Director and Representative in Japan of EPIC GAS Ltd., and Mr. Satoru Kobayashi, Managing Executive Officer of The Bank of Fukuoka, Ltd. with his wife Yuko.
At the beginning of the ceremony, a bouquet of flowers was presented to the heroines of the day, Ms. Yuka Kondo, and Ms. Yuko Kobayashi. After our latest product was named "EPIC BREEZE" by Ms. Kondo, the elegant pair cut the rope in perfect sync. The fireworks signaled the breaking of the kusudama and the seven-colored tape and confetti decorated the birth of the new ship.
After the guests were given a tour of the ship, the party moved to a restaurant in the city overlooking the Kanmon Straits, where a celebration party was held.
Now that we completed the delivery ceremonies, which had not been held for a long time, we hope the newborn vessel will sail through the uncertain ocean of shipping industry like a 'breeze'. And by the way, we at Kyokuyo will also 'KIKUHO' to you, our stakeholders !
[2020/12/17]
home > news > News 266 : First Delivery Ceremonies under COVID-19 Restrictions - Naming & Delivery of 7,500m3 LPG Carrier 'EPIC BREEZE"