Mr. Zamviri Ahmad Washoya ("Zam-san") from Indonesia joined our company on December 1, 2020 and was assigned to our Fundamental Design Section of Hull Design Department. Zam-san is a talented and promising young man, who completed a four-week internship at Kyokuyo 1 year ago, as one of the first participants of the "Internship Program for Foreign Naval Architects" conducted by the CAJS (Cooperative Association of Japan Shipbuilders).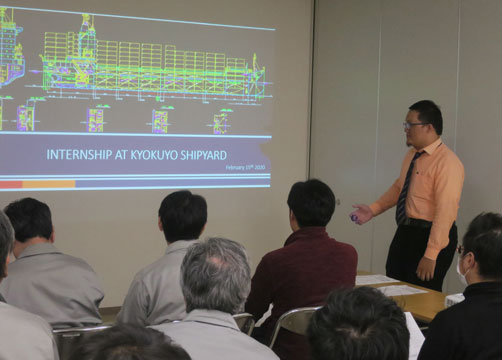 This internship program, planned with the support of the Nippon Foundation, was implemented to recruit foreign students and graduates studying naval engineering abroad in order to solve the chronic shortage of design personnel in small and medium-sized shipyards. In the fiscal year 2019 (ended March 2020), the first year of the program, 11 students were selected out of 110 applicants from seven universities in Indonesia and subsequently participated in the program at nine member shipyards, including Kyokuyo.
As our final decision was made to hire Zam-san and he was getting ready to start his new job here, however, the Indonesian was forced to stay in his home country for a long time due to the worldwide spread of the COVID-19 infection. It was in November that eased travel restrictions allowed Zam-san to re-enter Japan. Our new colleague was able to reach Shimonoseki only at the end of November, after 14-days quarantine at a hotel in Osaka.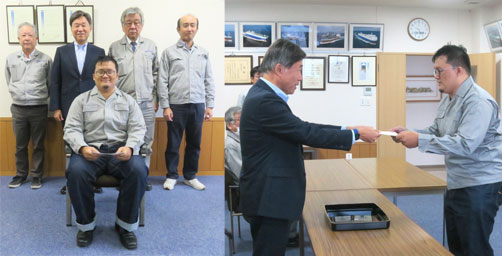 At the welcoming ceremony, Mr. Zamviri Ahmad Washoya, looking deeply moved, expressed his determination in Japanese : "After waiting for a long time, I am finally able to work in Japan and feel really happy." He continues, "I will join Kyokuyo's design team. I know designing a ship isn't easy, but I will do my best to get used to the job quickly and contribute to the company." Our president Ochi responded : "I'm pleased to hear your speech in fluent Japanese." "As the first employee to be hired through the internship program, I hope you will do your best for you and your successors."
Let's produce good ships together, Zam-san !
[2021/01/20]

home > news > News 271 : New Colleague From Indonesia
- "Zam-san" FInally Landed to Kyokuyo's Design Team