On March 16, our first naming and delivery ceremony in 2021 was held, for a 1,096 TEU container ship S558 - now named 'SUNNY IVY'.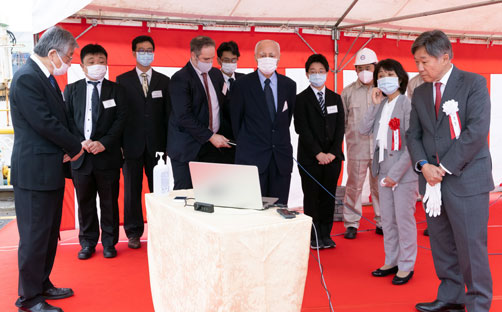 Due to the prolonged effects of the Covid-19 scourge, we were unable to invite many guests to the naming and delivery ceremony, like the way we usually do, to prevent the spread of the disease.
Therefore, we decided to hold a "web ceremony". Through live streaming, we connected the three countries online : TAIWAN, where resides the owner, TVL Marine Company Limited ; KOREA, where the vessel's charterer, Korea Marine Transport Co., Ltd. is based ; and JAPAN, where she was built.
In this way, we could limit the number of people attending at the actual event, while still allowing (virtual) guests from three different countries to experience the feeling of participating in a ceremony. it turned out to be more lively than expected as many people gathered at the offices in each country.
We invited Ms. Kazuko Fukumoto, Japan Representative of TVL, and her son Kenji, to our No. 1 quay where the 'real' ceremony started. After a bouquet of flowers was presented and the flags of Taiwan, Korea, and Japan were raised with the national anthems, Ms. Fukumoto named the ship "Sunny Ivy" in Chinese. A series of following events, like rope cutting, kusudama breaking and fireworks launching - were all broadcasted live to every virtual attendance internationally.
The exchange of commemorative gifts between the ship, the sponsor and Kyokuyo, which is usually held at the luncheon banquet, also took place online after fireworks. As we announced the closure of the ceremony to the real and virtual attendances, our first attempt at "web ceremony" came to a very successful end.
The Covid-19 disaster is changing the way business is done worldwide, and this ceremony was a memorable reminder that the style of delivery events will also diversify in the future.
[2021/04/07]
home > news > News 272 : New Style of Ceremonies Under COVID-19 -
Livestreamed Naming & Delivery of Container Ship SUNNY IVY