This is a continuation of News 260 ("Kyokuyo's BCP Now Certified ... and further working on new version, too") which was published in February last year. We would like to inform you of what we have been doing and what we are doing now regarding our business continuation in the event of a disaster.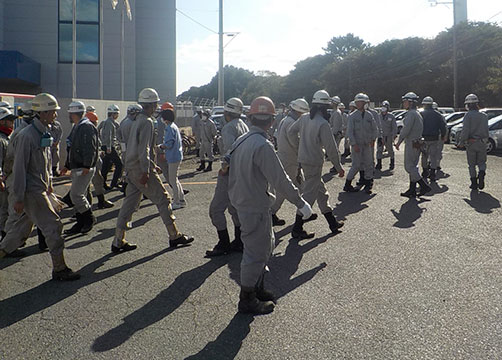 Based on the "Business Continuity Enhancement Plan (BCEP)" submitted to and approved by the Chugoku Bureau of Economy of Ministry of Economy, Trade and Industry (METI) on 30 October 2019, an internal project team continued to work on the plan and the first version of the more detailed "Business Continuity Plan (BCP)" of and for Kyokuyo Shipbuilding was completed in April 2020.
Of course, it is not enough to have a BCP in place. It is essential that everybody here is familiar with its contents and that additional measures are introduced to ensure the plan can be implemented smoothly when the need arises. The plan itself will also need to be constantly reviewed.
So, we have been explaining to our employees, subcontractors and suppliers about our thorough countermeasures in the event of a natural disaster, so that they understand our efforts to protect human life, minimize damage and resume business operations in the shortest possible time in such an emergency.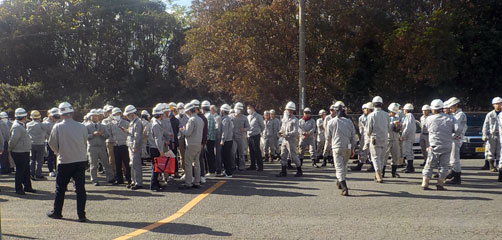 In February 2020, the Nishi-Chugoku Shinkin Bank, a local financial institution with which we have a longstanding relationship, provided us with 500 million yen contingent credit facility to ensure our continuation of business in the event of damage to the main factory. We would like to express our sincere gratitude to the Nishi-Chugoku Shinkin Bank for their understanding and flexibility.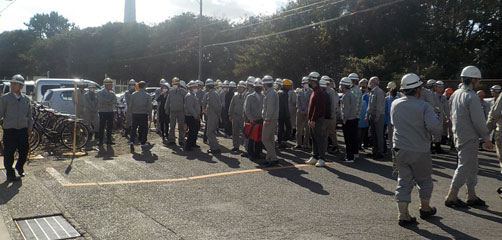 And in November, we conducted an evacuation drill in which all employees were required to participate. The drill was based on a scenario in which a massive earthquake had occurred, resulting in a high-level warning for the largest ever tsunami being issued to the whole Shimonoseki area.
The drill began with the sound of loud sirens. The General Manager in charge immediately announced the occurrence of a disaster and instructed the staff to evacuate to the main gate. The staff wasted no time before leaving their place and headed for the evacuation point. Without any major problems, all staff were confirmed to be around the main gate in about 5 minutes and 30 seconds.
At the same time, we sent out information using a safety confirmation tool to which all employees are subscribed, and asked each of them to enter their safety status. However, the input rate was poor. Surely, this is something we will have to work on.
At the end of the drill, Mr. Ochi, president, commented "the evacuation was very quick." "We will continue to conduct drills every year so that we can evacuate more quickly and safely." he added. Kyokuyo Shipyard will continue to hold evacuation drills on a regular basis to be prepared for disasters.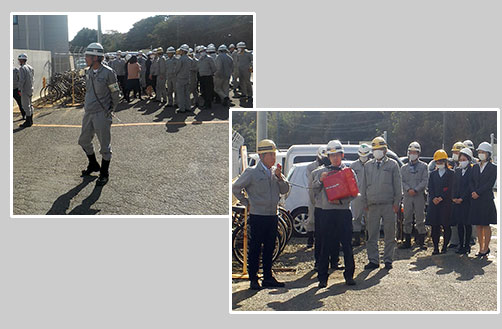 This year, we revised our BCP and prepared the second version in February. We also updated our BCEP, to include measures to deal with infectious disease like COVID-19, which was submitted to the Chugoku Bureau of Economy in March 2021 and certified on 6 May.
Kyokuyo Shipyard Corporation will continue to take measures against natural disasters and infectious diseases to protect the lives of our employees, subcontractors and suppliers, and to minimize the impact on our business operations.
[2021/06/14]

home > news > News 274 : Our Commitment to Business Contuity
& Disaster Preparedness - Planning, Credit Facility & Evacuation Drill...