At the beginning of 2022, I would like to extend my best wishes to all of you, and to share our plans for this year.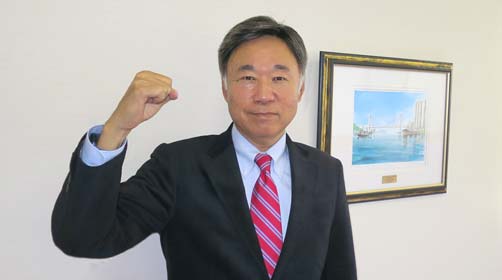 The world is again being shaken by the new COVID-19 variant. I feel however that we can accumulate results against the virus, through cool-headed analysis and introduction of countermeasures, to regain our freedom of action, that is necessary to be human. I hope that our lives will gradually shift to the next stage of hopefulness, even if the Corona disaster is not immediately at an end.
In the shipbuilding industry, the shipping market for bulk carriers and container ships, which soared in early spring last year, has led to an increase in enquiries for newbuilding, and which in turn has triggered order placement. At the same time however, the rapid rise in steel prices, which we have never experienced before, is driving up material procurement prices. This has become a major source of concern for us in terms of profitability.
Under these circumstances, we have built four vessels during the last year and delivered them as scheduled. This includes one 11,000m3 LPG carrier, two 1,096TEU container carriers, and one 178,000cft reefer with onboard fish processing facility.
In the same period, we received orders for a total of eight ships : one LPG carrier, one cement carrier, and six container ships. As a result, Kyokuyo has secured the construction volume until the end of 2023 on a delivery basis.
In our other mainstay business, the ship repair sector, we continue to enjoy the patronage of many companies and have secured a stable volume of work, resulting in solid performance.
Then, how should I steer Kyokuyo Shipyard in 2022? Here are my plans.
First of all, by quickly catching the trends of the changing times and potential needs, and by taking advantage of our design team, which is capable of handling any type of ships and customizations, we will make sure that we do not miss any opportunity to receive orders from both overseas and domestic owners.
In November of last year, we received approval from the Ministry of Land, Infrastructure, Transport and Tourism for our "plan to reinforce the management base" under the Maritime Industry Reinforcement Act - this means that we have been given an advantage in receiving orders for domestic coastal vessels. With sales activities to overseas customers being still restricted, we will take this opportunity to approach domestic ship owners with attractive proposals.
Next is to further enhance our competitiveness. Since price hikes in materials and equipment costs, steel in particular, can put pressure on our profits, we will make strong efforts in this regard, starting with reviews of design specifications and strengthening our purchasing power.
I'm happy to report that a concept we proposed was selected by the Nippon Foundation last October as one of the projects for the "Grant Programs for the Development and Demonstration of Advanced Ships." This concept, conceived as a cargo mover in the decarbonized society, relates to the development of a three-segment ship with our globally patented semi-spherically-shaped (SSS) bow, that can be applied to various types of ships and fuels. For the project, Kyokuyo will begin work on a gas-powered LPG carrier as the first target vessel. With this project, we have taken a strong step toward solving the issues of zero-emission ships, which are said to be extremely difficult for small merchant ships in terms of economic efficiency.
I would also like to tell you about our group of companies, its vision and purposes. Kyokuyo's parent company, Straits Holdings Inc., was established as a holding company in 2017, to achieve Kyokuyo's goal of "becoming a 100-year enterprise". The idea is to establish group companies in fields different from the shipbuilding to help Kyokuyo achieve its goal by improving the performance of each company and increasing the strength of the group as a whole.
Later, we have established two investment companies under the umbrella, one for marine-related businesses and the other for non-marine sector, which have been transforming into companies that can contribute to the group by generating profits since last year.
We will continue to promote the group management with our professional staff.
In conclusion, I am going to repeat the same message as in previous years, but with a renewed spirit.
I would like to express my gratitude to the shipowners who placed orders with us and to the trading companies, brokers and other stakeholders for their efforts that made it possible for Kyokuyo Shipbuilding to sail in a healthy manner even in rough seas.
We will always aim to create a vibrant workplace full of energetic voices, and to make all employees, including those of our subcontractors, feel a sense of unity as "Team Kyokuyo." We think of our employees as our family and support their dreams and goals, while aiming to create an organization where everyone can have a sense of purpose and fulfillment.
This year too, with a renewed determination, we will continue to build and repair merchant vessels, for customers, stakeholders, community, company and ourselves and our families. We look forward to your continued patronage and encouragement!
Katsuhiko Ochi
President
Kyokuyo Shipyard Corporation
[2022/01/01]

home > news > News 282 : For Sustainable Enterprise & Society - 2022 New Year's Greetings from the President - Kyokuyo Shipyard