On September 10, the keel laying for S-443, a cement carrier ordered by messrs. Seiho Kaiun Co., Ltd., took place at our all-weather block assembly factory.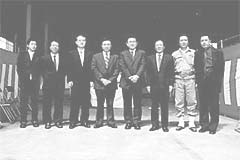 We were delighted to have Mr. Fusamitsu Hasebe, Director of Seiho Kaiun, as well as Mr. Masahiro Yamada, General Manager of Nippon Kaiji Kyokai Kitakyusyu, as our guest of honor to attend the ceremony, hosted by our new CEO, Mr. Okamoto and new Senior Managing Director, Mr. Ochi. The superintendent from Messrs. PETROSHIPS also joined the guests to celebrate the keel laying.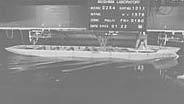 Relaxed air caming back to the place after religious ritual during which none - except Shinto priest - is allowed to bring out a single word, the attendants and our engineering staff enjoyed a friendly atmosphere by talking each other quite cheerfully. It was a good ceremony, with sounds of laughter heard everywhere.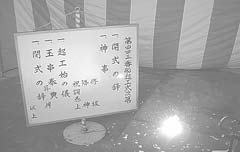 As instructed by the owner, we will be "consolidating our forces, experiences and know-hows to build an 'A1' ship". We look forward to reporting you the grand launching ceremony in coming November.
[2002/10/05]