You probably know that we received an order for 4 sister container carriers of 847 TEU and have already delivered 3 ships, named SINOTRANS BEIJING

, SINOTRANS SHENZHEN and SINOTRANS NINGBO

respectively.

About 6 months after the oldest sister was completed, the last one, code-named S-480, ordered by Trade Endeavor Shipping Limited, was named "SINOTRANS XIAMEN" and delivered to the owner on July 31, 2008.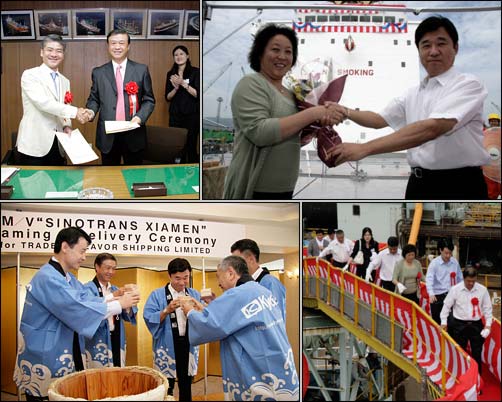 Mr. and Mrs. Pan De Yuan, Executive Vice President of China National Foreign Trade Transport (Group) Corporation, Mr. Hidemoto Mizuhara, General Manager of Mitsubishi Corporation and other guests from Beijing, Hong Kong, Tokyo and Kita Kyushu gathered together at our shipyard to celebrate maiden voyage of this youngest child.
Now that all the 4 ships are built, we would like to thank the owners once again for this order. We are happy and proud of it. We wish a bright future for each of the sisters.

[2008/08/12]

We will be closed on the days marked in red. Sorry for any inconvenience.