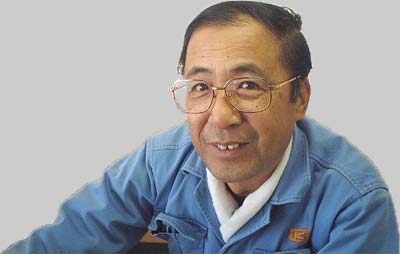 In this issue, we introduce you our technical teams.

Always targeting technically innovative products, rather than conventional plain-vanilla ones, we have been keeping unique and relatively large design and manufacturing teams to ensure our continued flexibility for building various types of vessels.

Unlike other industrial products, our merchant ships are built to order.

Just like an artist painting on canvas, our designers use their creativeness for every ship to make all the requirements fit to the physical dimensions of the building dockyard ; and our manufacturing team relies on their professional skills to faithfully materialize designers' imagination in the form of final product.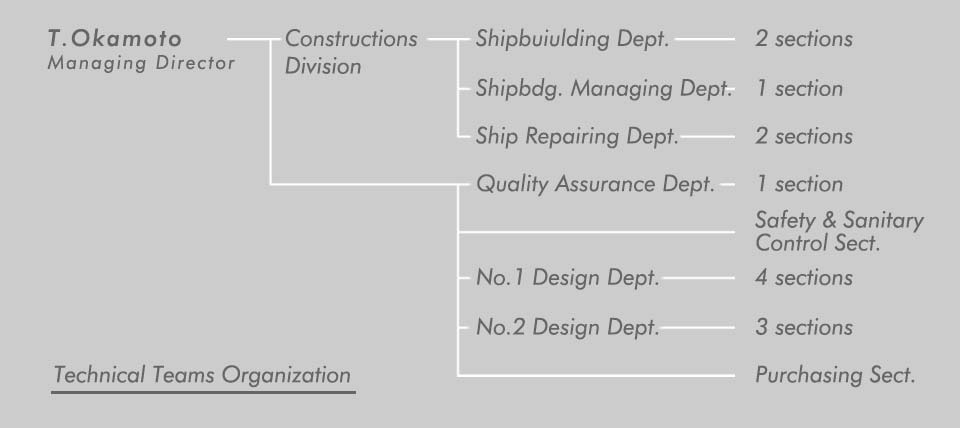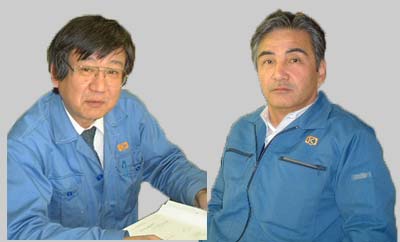 If you look at the organization chart (above), you will probably notice our technical teams are relatively big. In order to justify the size and to maintain commercial competitiveness of our products, we are working hard to be more efficient in our way.

For instance, we definitely prefer having longer meetings with owners at design stage and discuss about every aspect of the vessel so that no misunderstanding is left for building stage : we know it will finally cost less.

And of course, we have been allocating considerable resources in the basic research. Our investment in studies on various fields, like energy-saving, or automating, to name a few, have brought rich feed-backs to our commercial products. In hull form "lines" development, we avail ourselves of facilities of Japan Shipbuilding Technology Center and Nishinihon Fluid Research Co., Ltd. for model tank testing.

You may recall our name in combination with air-cooled type full refrigerated container carriers that we have recently developed and built for COSCO, but in fact those ships are natural fruits of our technical teams, just like all the other vessels completed in our dockyard. We are proud of building original merchant ships unique to us.